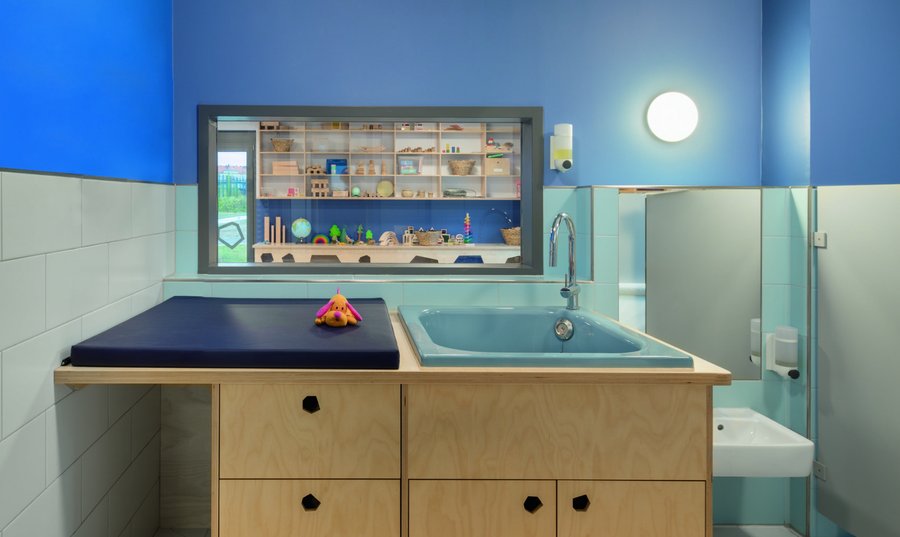 The "Kita am Gleis" with its L-shaped floor plan close to the Yorckstraße underground station and the Gleisdreieckpark in Berlin offers space for 33 children. It belongs to the new district "Neu-Schöneberg", which was completed in 2019 between Wilhelminian buildings and the railway tracks in the east of Berlin-Schöneberg.

At the childcare facility, the atmospheric design of the rooms, light wooden furniture and blue as the dominating colour family ensure that children feel at home – and can orientate themselves intuitively at any time. In the design of the three sanitary and changing rooms, the Berlin architects Jason Danziger (Thinkbuild Architecture) und Erhard An-He Kinzelbach (Knowspace) made it the main priority to have plenty of natural light and aesthetically pleasing bathroom elements. So blue shower trays by Bette were repurposed as bespoke washbasins.

Blueish feel-good ambience
For the washbasin next to the baby-changing stations, the architects searched for a a matching colour that would blend seamlessly with the blue colour range, the NCS colour range R90B consisting of various shades of blue. They found what they were looking for at Bette, the Delbrück-based bathroom specialists whose products they had already been using for a number of years. "The Bermuda-blue shower tray by Bette was the perfect match for the chosen range of colours and the light wood of the baby-changing station. So instead of using actual washbasins, we simply repurposed the 28-cm deep shower trays to help whenever any of the children had a little accident," Jason Danziger explains.

Bespoke shower trays
Although the three Delta shower trays, measuring 80 x 75 cm, are actually a classic standard size they had to be custom made for the "Kita am Gleis". "The colour alone meant that the blue shower trays were bespoke. Added to that, the architects asked us for two of the shower trays to have a tap hole drilled in the rim so a swivel shower could be installed and used to clean the children when required", Sven Rensinghoff, Marketing Manager at Bette, explains. Therefore the tap holes were drilled into the titanium steel blanks before the colour enamelling process and application of the corrosion protection.