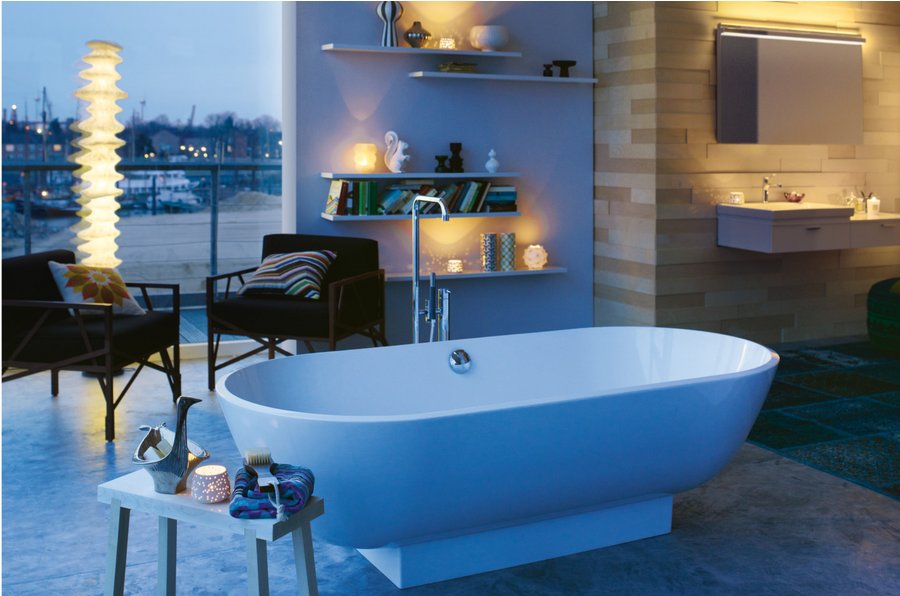 Bathroom planners and architects love freestanding tubs – by zoning the room, they create a clear separation between the various areas of the space, and not just at visual level. Along with a walk-in shower, a freestanding tub is the ultimate trend product for any lifestyle bathroom. The understated but space-consuming tubs play an important role in the planning of a bathroom and become the dominant element of the design. And when it comes to implementing a private spa, a freestanding tub is quite simply a must-have.

A freestanding tub also stands for spaciousness and openness – high-end bathrooms are definitely getting bigger. And if there isn't enough room to place the tub in the middle of the room, a back-to-wall bath is an increasingly popular option: three sides of the tub are freestanding and the water supply is routed via the plumbing wall.

Rectangular baths with rounded corners are particularly popular and are often equipped with two sloping ends and a centrally positioned drain. But big circular tubs are also an increasingly popular option for shared bathtimes. Most of the freestanding tubs have an emphatically understated design; occasionally, however, they come in a striking colour block look – with different colours on the inside and outside – or are enclosed in a wood or metal frame to underscore their furniture-like character. Made of steel enamel mineral composite, acrylic or even marble, the eye-catching solitaires are increasingly easy to set up thanks to modern installation technology. All the same, when planning a bathroom with a freestanding tub, it's vital to check both the logistics of getting it into the room and the statics beforehand.