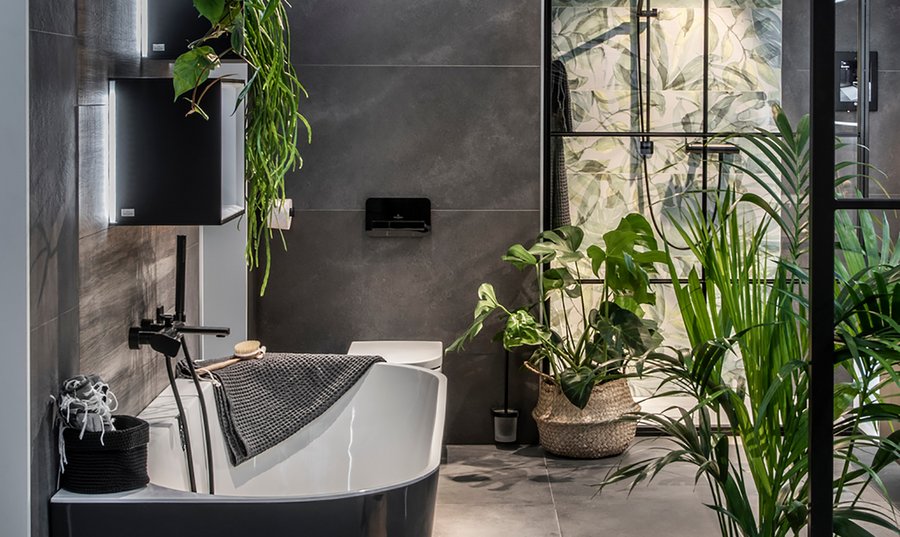 As summer slowly but surely comes to an end, gardens and patios are being tidied up and readied for winter. For a few years now, the outdoor living room has been playing an increasingly important role in our home lifestyle, and outdoor furnishings are becoming more and more versatile and upmarket. A lot of ideas for outdoor living can be transferred to the bathroom, because anything made to withstand the weather can't possibly be a bad choice for its challenging indoor climate. All it takes to bring this top interior trend to the bathroom is a basic understanding of materials…

All sorts of outdoor furnishings are suitable for the right styling in the bathroom: armchairs, benches, beanbags, waterproof lamps and hammocks, as well as other product categories like carpets, cushions, plants and accessories, which come in a huge variety of designs, materials and colours. In terms of its materials and construction, outdoor furniture has to be able to withstand water, humidity and heat – requirements that closely resemble the criteria bathroom furniture has to meet. Depending on size and type, outdoor furniture is therefore virtually predestined for putting the finishing touches to the bathroom. And freestanding waterproof lamps don't just show the bathroom in a good light, they're attractive eye-catchers too.

The waterproof bathroom: plastic and synthetic fibres at their best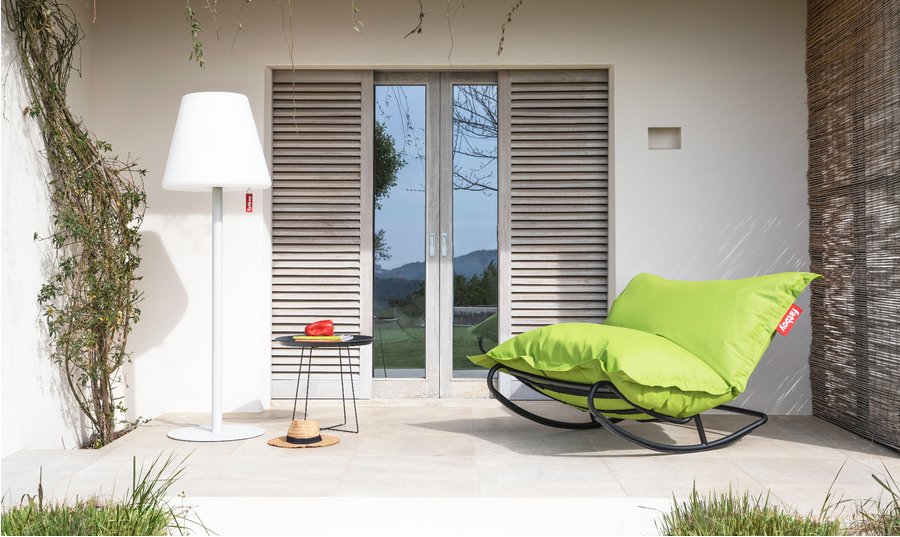 There was a time when outdoor furniture was almost exclusively available in uniform grey or white plastic or PE rattan modelled on its natural counterpart. But those days are well and truly over. Today the world of outdoor furniture is colourful, stylish, multicultural or natural, resource-friendly and pretty much weatherproof. That's thanks to a mix of old and new synthetic fibres and plastics that are both water- and dirt-repellent. The materials used for contemporary outdoor furniture include hardwoods like eucalyptus, teak or Douglas fir, as well as solid plastics that are both lightweight and easy to care for. Polywood, on the other hand, is a mix of wood and plastic; it's more resistant to humidity than hardwood and has a wood-like surface.

The trend towards using outdoor products in the bathroom has been triggered by the huge leap in the quality of their workmanship and design. "A lot of design labels in the interiors sector have realised that outdoor products are a growth market and are launching outdoor collections. Using the same products in the bathroom seems like an obvious idea, as a growing number of consumers are discovering," says design journalist and trend researcher Frank A. Reinhardt.

Nowadays customers can choose from a wide range of materials for their outdoor furniture. And when it comes to textiles, synthetic rope is playing an important role. Made of nylon, polyethylene, polyester or polypropylene fibres, it's available in all sorts of designs and formats. It might take the form of rope with a diameter of several centimetres, be knitted into a pattern or used to create cords. But what all the designs have in common is an authentic appearance that embodies simplicity and a cosy feel.

Generally speaking, most outdoor textiles are made of synthetic fibres like polyester or vinyl. One important exception is a fabric by the name of Sunbrella, which is made of acrylic fibres – and therefore really can be left outdoors all year round. What's more, the breathable acrylic textile feels pleasant on the skin and is extremely comfortable to sit on.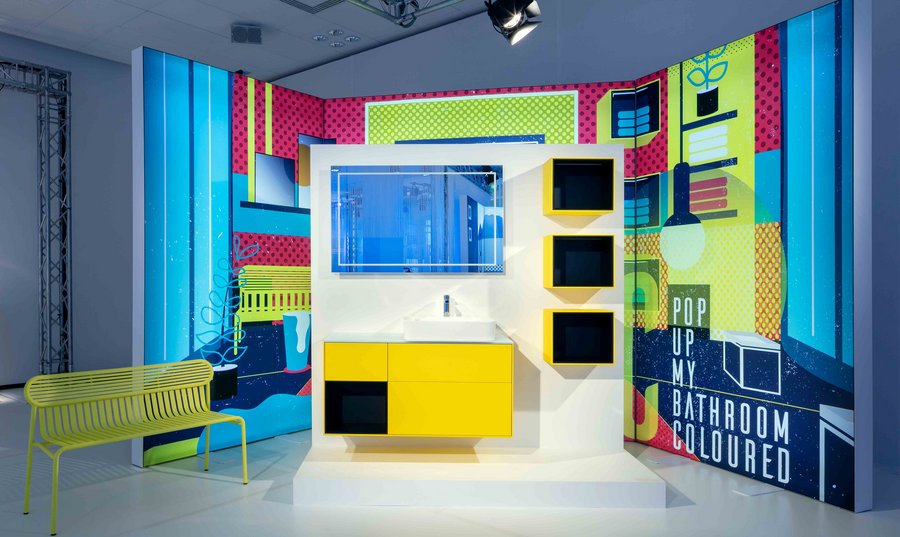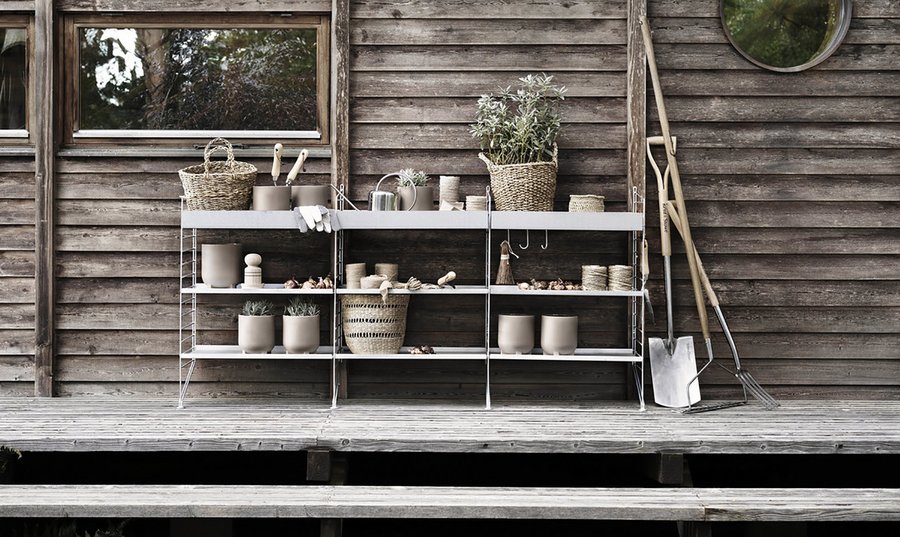 Metal has traditionally been an important material for outdoor furniture too – with aluminium, steel and iron playing a leading role. Aluminium unites all the positive characteristics associated with metals in a single material: besides being particularly light, it's also long-lasting, timeless and robust, as well as malleable and resilient. As a result, outdoor furnishings made of aluminium make good everyday garden companions. The finish is a crucial quality factor: with a good powder-coated finish, aluminium will last for 20 years and is easy to care for, recyclable and totally rust-free, as well as being resistant to damp, cold or UV radiation. But stainless steel is also a popular choice for outdoor furniture. It's just as weatherproof as aluminium, although not quite as light. And, also like aluminium, stainless steel furniture always looks elegant and modern too – and lasts a good while. That's because of the chromium-nickel alloys it's made of, a special grade of stainless steel (known as V2A in Germany) that ensures moisture and weak acids have no effect on the material. Particularly robust garden furniture is made of an even more resistant grade of stainless steel (the V4A standard in Germany) that makes it resistant to salt water or chlorinated water as well.

By contrast, wrought iron furniture has a very nostalgic or rustic charm and conjures up a vintage feel. And nowadays iron furniture comes with all the benefits associated with modern powder coating technology. As a result, the furniture will last a good 10 years and is virtually maintenance-free. Rust doesn't stand a chance – iron can withstand almost any weather conditions. The furniture doesn't get hot in summer – a bonus as compared to aluminium – and, thanks to its powder-coated finish, can be left outside even in winter.

Outdoors goes indoors
For a few years now, the new materials and production methods emerging in the outdoor furniture sector have been enabling unusual designs and colours that closely resemble those of furniture intended for indoor use. So anyone who wants to add extra flair to their bathroom needn't have any reservations about helping themselves to the rich and varied range of outdoor furniture that's now available on the market. In particular, playing with different materials and colours can produce unusually attractive results. All in all, it's safe to say that outdoor products are a genuine bonus when it comes to the options for furnishing a bathroom.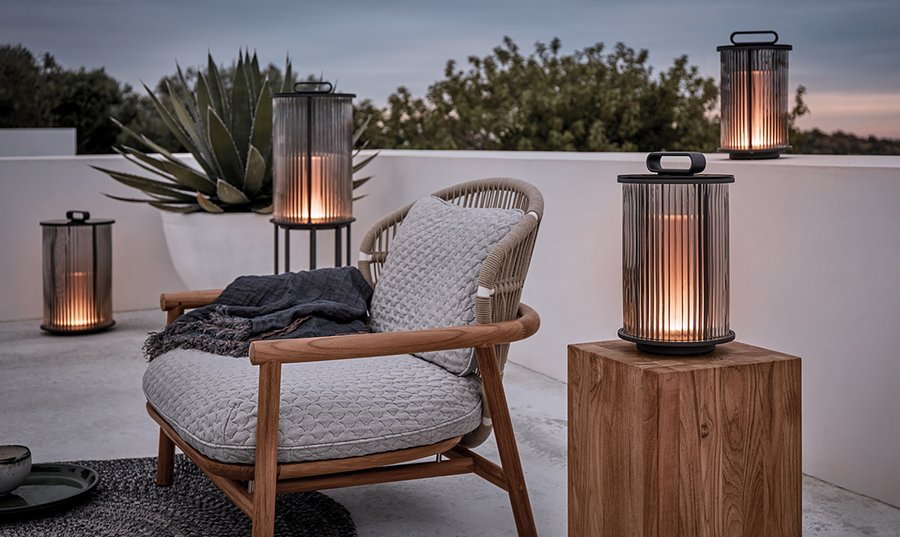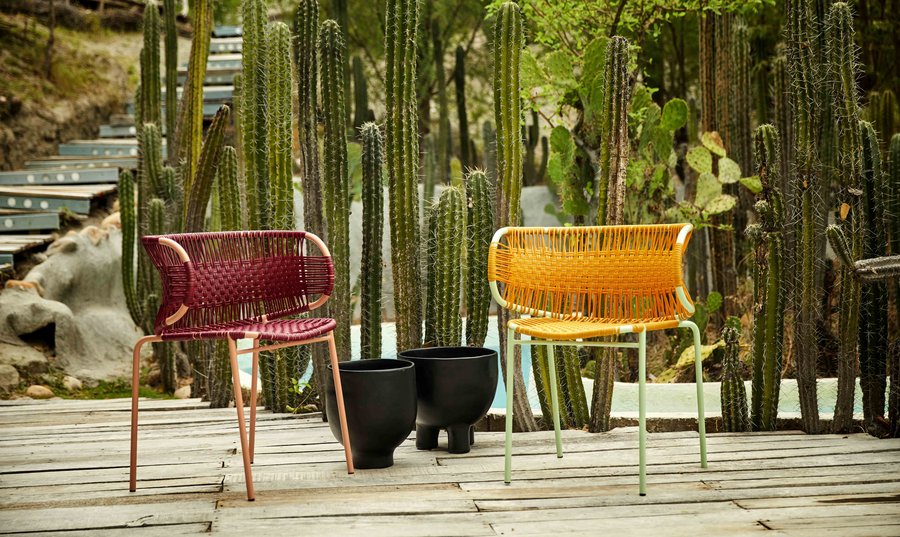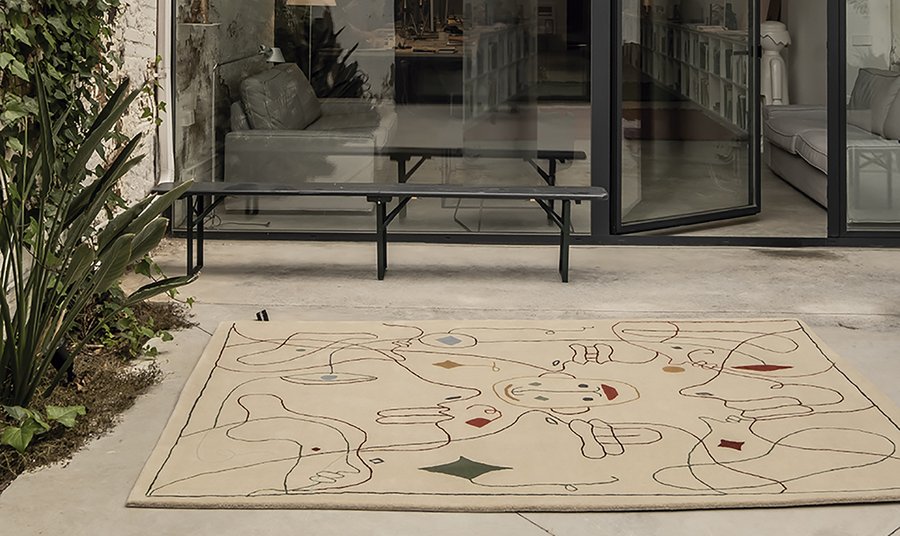 Plants can also make a bathroom feel more cosy. As long as they get enough light, plants actually thrive particularly well in the warm and humid conditions of the bathroom and, depending on the species, can totally transform an empty corner with their lush green foliage. Given a place by the window, even palms do well in the bathroom and create a tropical ambience that turns taking a bath and creaming yourself into a much more laid-back experience. Rubber plants and Swiss cheese plants can even be used to improve the indoor climate because their big, robust leaves remove particulate matter from the air.

A chair, a bench, an outdoor rug or a lamp (which normally shouldn't be placed anywhere near the shower for safety reasons): using outdoor furniture and accessories can produce a more interesting and varied effect when styling a new bathroom. Good bathroom planners and architects will welcome the new design tools and use them to create a new look for lifestyle bathrooms.