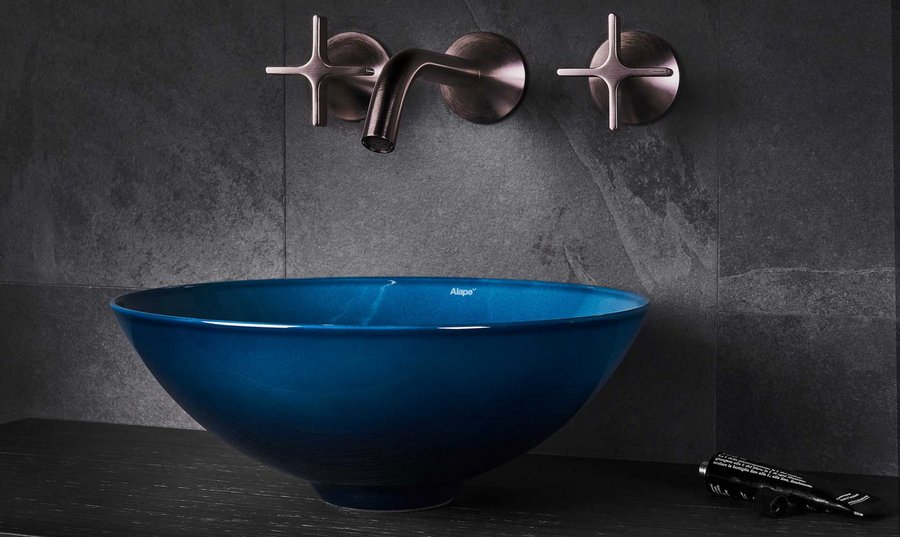 Alape is well known for its products made from glazed steel and for continuously creating new designs from this material. In recent years, steel milling has become able to achieve a thickness of just 3mm, resulting in light, slender wash basins. But also in terms of glazing, Alape has continued to experiment with ever new material mixes. Now, Alape has managed to manufacture two new surfaces: "Terra" and "Aqua" were presented at ISH in Frankfurt, Germany, as marketable products.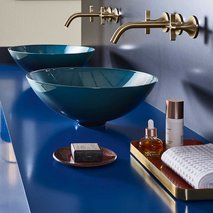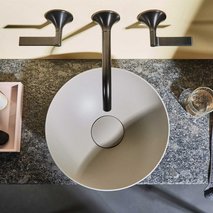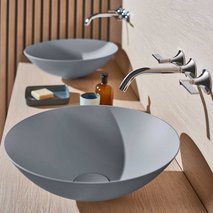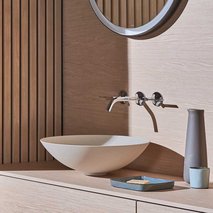 "With radii becoming smaller and smaller, the demands on enamel or enamellers have increased," explains Dr.-Ing. Julia Rami, head of industrial engineering at Alape, the continuously increasing demands on enamel. "A steady hand and diligence are needed to enamel our new Terra and Aqua surface variants. The glazing with matt colours, as for Terra, is a taxing process. Composing and producing the enamel slip is already a challenge. For Aqua, variations in the layer thickness produce shadings in the basin that create an impression of depth. Contrary to a normal scenario, what we want here are irregular layer thicknesses."

Inspired by nature
When developing new surfaces, Alape looks to the increased demands on living space designs. The bathroom is becoming more and more an oasis of wellbeing used for regeneration and recreation. Apart from functionality, ambience is playing an increasingly important role. Therefore, the manufacturer decided to break new ground. The inspiration for the new finishes came from analogies with nature: The depths of the ocean and the colour of water were used as models, along with the natural composition and colour of stones.

"Terra" is Alape's new surface with a mineral character. This matt, powder-like surface is reminiscent of the finest mineral particles. You will perceive that velvety and warm feeling by touching the surface. The colour scheme in nuances of grey for all four surfaces Nordic Matt, Oyster Matt, Silk Matt and Gravel Matt accentuates that sensual and pleasantly soft impression. The naturalness and authenticity of these colours impart both harmony and mutual dominance on the surrounding materials.

The "Aqua" surface impresses with an optical depth normally only found in glass. Its special character, a high-gloss surface, has a varying depth of colour: During the manufacturing process, the colour gradient slightly varies every time, making each basin unique. In addition, the colour is perceived differently depending on surrounding materials and lighting conditions. The surface is available in three shades of Deep Blue, Deep Green and Deep Indigo, inspired by the colours of water.

"Alape's intense contention with surfaces is a response to very basic human needs," Andrea Jürgens, interior designer and head of product development / creative management at Alape, about the continuously expanding surface portfolio of her company. "Surfaces represent the interface between the human body and the material world that surrounds it. They affect our well-being. The closer we are to the things that surround us in everyday life and the more intimate our relationship is with them, the more important the sensual and emotional aspects become."