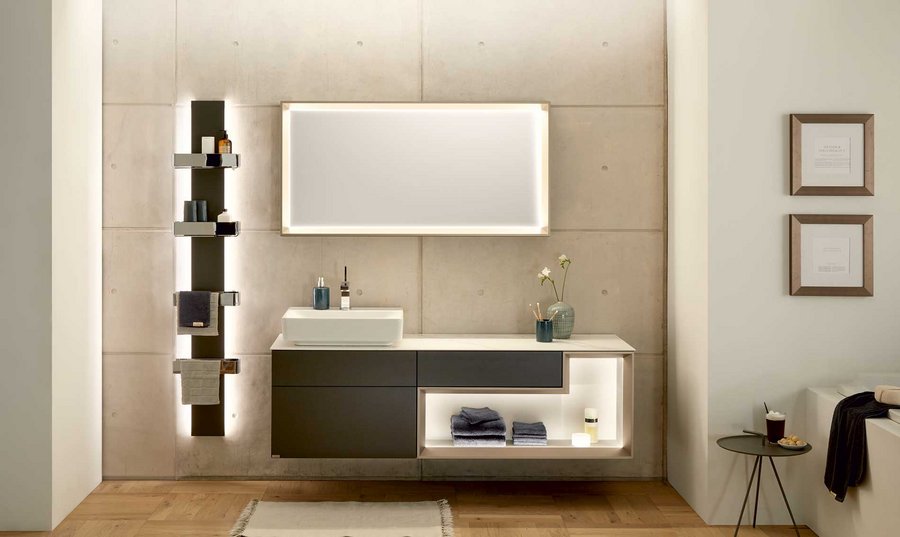 Quality of experience is the new buzzword for bathrooms. Even if the average German bathroom is furthermore just nine square metres large, we still want to enjoy an atmosphere of well-being inside it. The times when we used the bathroom just to get ready for the day in the morning and to get ready for bed in the evening are far behind us. Today bathrooms are designed for comfort. We want to linger here, recharging body and soul.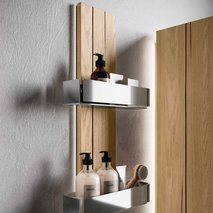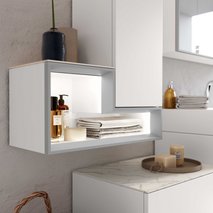 Creating the right ambience is an intrinsic part of this. Fabrics aren't just restricted to the bath towels – you'll find them in seat coverings, too, or the bathtub might be dressed in fabric. Moisture-resistant wallpapers on the walls and wood-effect floor tiles exude comfort – or maybe we'll even treat ourselves to a real-wood floor or a carpet in the bathroom. We can relax in a small armchair in the corner, and the large backlit mirror over the washbasin isn't just for getting ready for a night out – we can use it to check the weather forecast as well.

To create an ambience that is consistent throughout all the areas of the home, German furniture manufacturer Hülsta has set out to build bridges between the living room, bedroom and bathroom. It has launched two design-oriented bathroom collections based on its most successful furniture series. The Tetrim collection by the Münsterland company features a striking, puristic design. The signature L-shape continues in the bathroom and provides open-design drawers for keeping hand towels, shampoo bottles and everything else a bathroom needs within easy reach at all times. Handleless fronts and push-to-open drawers and doors underscore the clean design.

Gentis by contrast aims to add a natural touch to the bathroom. The collection plays with attractive opposites with its mix of reflective high-gloss surfaces and natural wood. The carcases and fronts are available lacquered in pure white, silk-grey and grey. The elements can be paired with accent units with a knotted wood effect in oak, walnut or oak anthracite. A blend of light tones can be combined with natural oak to create a welcoming Scandinavian atmosphere, while dark tones can be paired with wood accents in walnut or oak anthracite for an elegant look.

The lighting in both collections also impresses: the integrated lighting elements in the frames of the cupboards and mirrors in the Tetrim collection provide indirect illumination and a gentle lighting mood, especially when paired with light colours. The individual units in the Gentis collection can be staged so that they appear to float on the wall thanks to a functional frame with LED lighting. Light control allows the user to switch between warm and cold light and to create the ambience he or she wants.