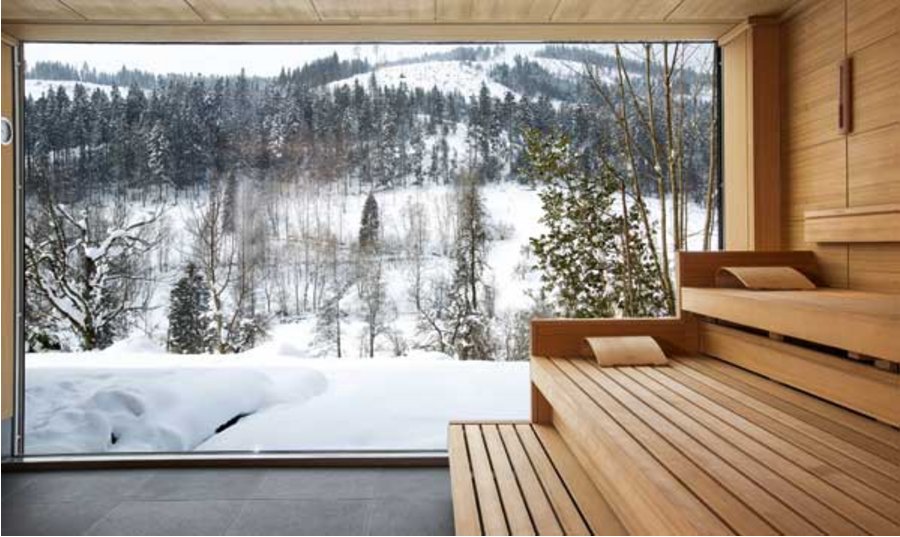 In the long winter months we long for sun, light and warmth. But now, with the summer showing the full force of its merciless face, we crave an opportunity to cool down. The unbearable sultriness drains our energy. We feel slow and heavy, and at night we can barely sleep. A burst of freshness would be just the job. Leaping into cool, refreshing water this very moment seems like the ideal solution. But as strange as it might sound, the effect is even greater – and perhaps even more importantly, lasts longer – if we work up a good sweat before cooling down. And what better place to do that than in the sauna!

It all hinges on the fact that taking a sauna produces a kind of artificial fever that activates and boosts the body's metabolism. In order to dissipate the heat, the blood vessels under the skin dilate and the flow of blood in the upper layers of skin increases. When the body cools down afterwards, the cold stimulus triggers counterregulation – a form of reaction training commonly referred to as "toughening up". The cold makes the dilated blood vessels contract strongly so that no more heat is lost via the skin. It's a highly effective form of vascular training, especially for the veins, which have relatively weak muscular walls and don't get much opportunity to perform "vascular gymnastics" otherwise. "That's why the bodies of people who use the sauna on a regular basis react much better and faster to hot and cold stimuli – we don't feel the cold so much in winter and don't suffer from the heat so much in summer," explains Prof. Dr. med. Karl-Ludwig Resch, head of the Deutsches Institut für Gesundheitsforschung (German Institute for Health Research) in Bad Elster.

But that's not the only positive effect that regular sauna sessions have on our vascular system. "It stimulates the metabolism and trains the blood vessels, the immune system and the body's ability to self-regulate. Among other things, it's an excellent way to prevent cardio-vascular disease – and what's more, it's even enjoyable," says Resch, drawing on his many years of experience as a medical professional. According to Japanese studies, he adds, this vascular training also counteracts the dreaded process of arteriosclerosis, commonly referred to as hardening of the arteries.

That's why regular sauna sessions, ideally once or twice a week, shouldn't just be scheduled during the cold months of the year but in summer too. And that's obviously much easier if you have your own sauna at home.

Home sauna owners can choose from various kinds of equipment for cooling off. A water hose is often the first choice. It's particularly good for cooling down the arms and legs, always working towards the heart to boost circulation. A waterfall shower with a wide outlet that sends water cascading all over the body is a very quick way to cool off, while a bucket shower has a nostalgic charm all its own. The mostly plastic-coated wooden bucket empties its contents all at once when the user pulls on a chain. Tougher types might prefer taking a cold bath in a plunge pool, although the maximum bathing time shouldn't exceed 20 seconds and it's important to shower off beforehand for hygienic reasons.