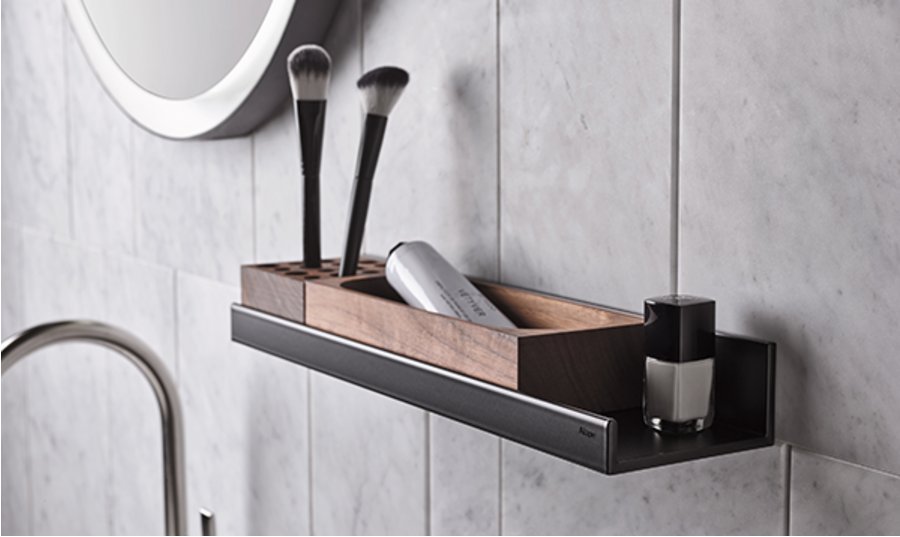 With the Assist series, Alape complements its basin and washstand range A˘form as well as the matching furniture programme A˘system with a shelf system. The stylish and functional series, with its various variants, offers a generous design space for every space requirement. Assist is based on a delicate aluminium profile, which is available in different dimensions. It can be complemented stylishly with functional elements such as a box or perforated block in oiled walnut. Towel rails and dispensers for body care products can also be integrated elegantly. There is a total of 20 models in different dimensions and versions.  
The system, which is kept in contemporary design, is characterised by a clear geometric shape language reduced to the essentials. These delicate shelves are made of powder coated aluminium with a matte black finish. The shelves seem suspended on the wall. This impression is created by a screw-less appearance. "It had to be easy to fix the shelves to the wall and they had to be sturdy," the designer Wolfgang Hartauer explains. "We have therefore developed an innovative plastic clip that fits exactly into the hidden groove on the rear of the profile. This clip can be adjusted precisely and it even compensates minor wall unevenness." 
The standard version of Assist comes purely as a shelf or equipped with a lotion dispenser that can be placed either on the right or left side to suit personal taste and individual needs. The dispenser bottle, which has been adapted to the design, is included in the scope of delivery. The shelf system is available with towel cut-outs of varying widths.  
Separate functional elements include a perforated block and a box, which can be inserted precisely into the shelves and glide effortlessly on integrated felt cushions. The aluminium profile is available in four widths: 400, 600, 800 and 1,000 mm. The versions with lotion dispensers are available in all widths, while the towel rails come in widths of 400, 600 and 800 mm.