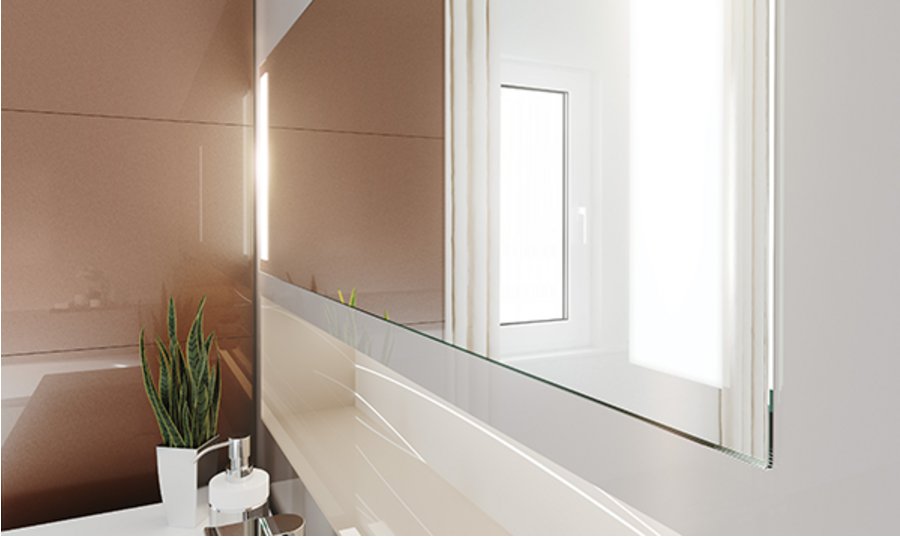 Mirror are one of the basic interior elements in the bathroom. Here we prepare ourselves for the day, here we make our styling for the evening out, here we shave us or make us off before going to bed. In addition, large-area mirrors can optically enlarge the room. On the other hand, glass mirrors have a certain risk of breakage and thus a risk of injury and they are also quite heavy – starting with a certain size. As a supplier of polymer solutions, Rehau is also concerned with the trend material and promises some advantages over real glass with its surface Rauvisio crystal. 
The polymer glass laminate offers the visual advantages of glass, but at the same time is less breakable, lighter and more convenient to process than real glass. The break-resistance of the material is 10 times greater than that of glass. Moreover, it is also around 50 percent lighter. The material can be milled and even drilled on site, for example to add backlighting or to insert inlays. 
Thanks to the hard coating, rauvisio crystal is highly scratch-resistant and the parts with finished edgeband are TÜV certified and pass the AMK requirements for temperature, steam and alternating-climate resistance. 
Further information about Rehau you will get here.