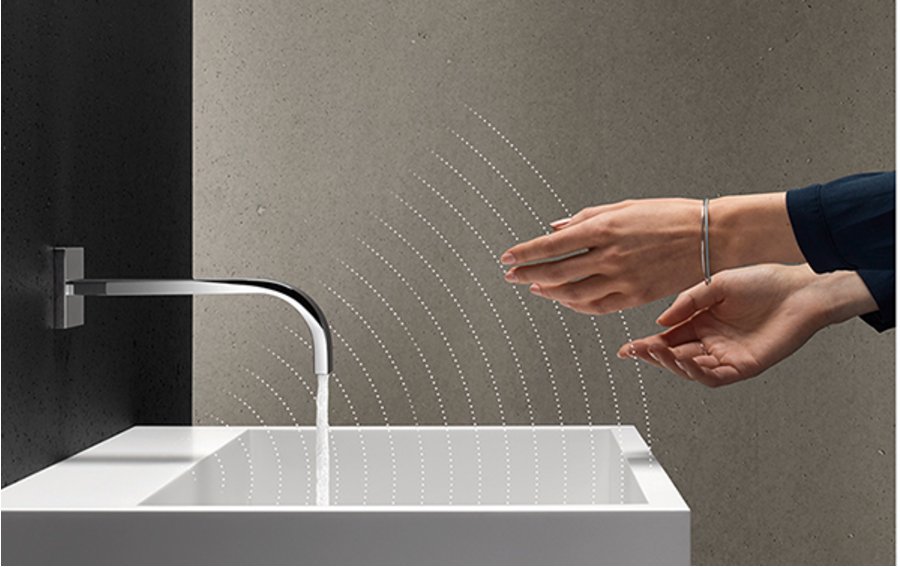 Touchfree extends Dornbracht's product portfolio for all basin fittings (wall-mounted and free-standing models) by adding a new contact-free control. Based on active motion detection, Touchfree operates without a visible sensor on the fitting, and can be combined with all the Dornbracht series.  
Touchfree applications will become increasingly relevant anywhere that a great number of visitors are expected – this includes semi-public washroom facilities in hotels, offices and restaurants, as well as airports. Whereas previously, the basin fittings in these sites have mostly made use of infrared sensors, Dornbracht's Touchfree will bring the advantages of high-frequency technology to these areas for the first time. The added value: Touchfree has a sensor that is entirely invisible on the fitting and can – just like a motion detector – be attuned to different ranges. The reliable and convenient Touchfree sensor automatically switches the water on, as well as off again, as soon as the individual leaves the washplace.  
The technology behind can be combined with every Dornbracht design series. The eSet is available as a surface-mounted solution for basins with a free-standing spout and as a concealed solution for wall-mounted spouts, either with temperature adjustments. It is easily installed below the basin, thus it also gives architects, interior designers and planners freedom for their design schemes.  
Touchfree can be adjusted in many ways, just like its detection sensor technology. The sensor learns automatically from the first time it is put into operation, but its sensitivity can be adjusted at any time to meet individual requirements. Thermal disinfection and water temperature levels can also be set according to need. Dornbracht Touchfree also has an adjustable run-on time, making it particularly resource-efficient. This effect is even more pronounced when used in combination with water-saving fittings (such as the Dornbracht CL.1). 
Further information about Dornbracht you will find here.