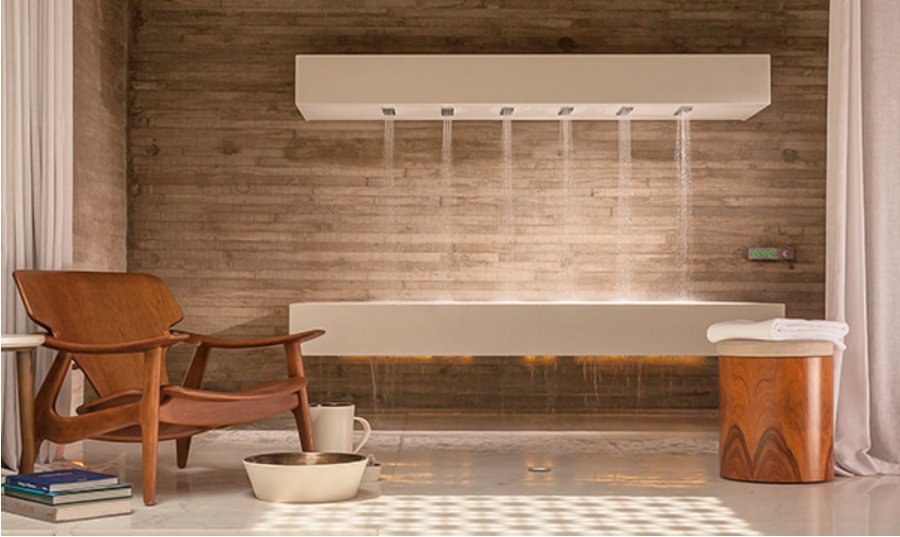 The Aigai Spa in São Paulo is an oasis of calm in the middle of the Brazilian capital. The architecture of the two-storey spa not only provides clear separation from the loud and exuberant world of this big city, it also opens up to the sky, the sun and the wind. Twelve individually designed patios are the central element of the structure. The luxuriantly planted gardens, comfortable rest areas and shimmering pools of these cosy inner courtyards promise pure relaxation. Shadows are cast by the mashrabiya grilles that are used on the façades and as sliding roofs to create an atmospheric interplay of light and shade. A homage to traditional Arabic architecture, they stand in contrast to the untreated, exposed concrete that is the main building material used by the architect Mario Figueroa. 
The Aigai Spa has a total of seven treatment areas where therapeutic massages, baths and other therapies are on offer. The shower applications are a special feature, as they allow the therapeutic effect of water to be experienced in many different ways.  
Such as the Horizontal Shower of Dornbracht. Six Water Bars are set into an extensive shower panel above a heated reclining area. Lying on their front or on their back, guests of the spa can completely relax and enjoy choreographies of water temperature and volume. The "Balancing" scenario, for example, treats body and soul to a therapeutic water massage, "Energizing" invigorates with stimulating changes in temperature and the interplay of heavy and fine rain, while the uniform raindrops and slowly heated water of "De-Stressing" specifically help to release stress and tension.  
The Vertical Shower application is also part of the exclusive programme at the Aigai Spa. It combines special outlets with different flow modes: Just Rain surrounds the body in big, glistening drops, while a clear, wide torrent of water cascades from the Water Sheet onto the shoulders and loosens the muscles. At the same time, two Water Bars are stimulating the back. As with Horizontal Shower, the guests can choose between three different choreographies – "Balancing", "Energizing" and "De-Stressing".  
As befits the concept of living close to nature, the water experience with RainSky E rain panel is like being in the open air. The element falling from overhead spray, body spray and rain curtain can be as invigorating as a cold downpour, as relaxing as a gentle rain shower, or as enveloping as a waterfall. 
Further information about the Aigai Spa and Dornbracht you will find here.