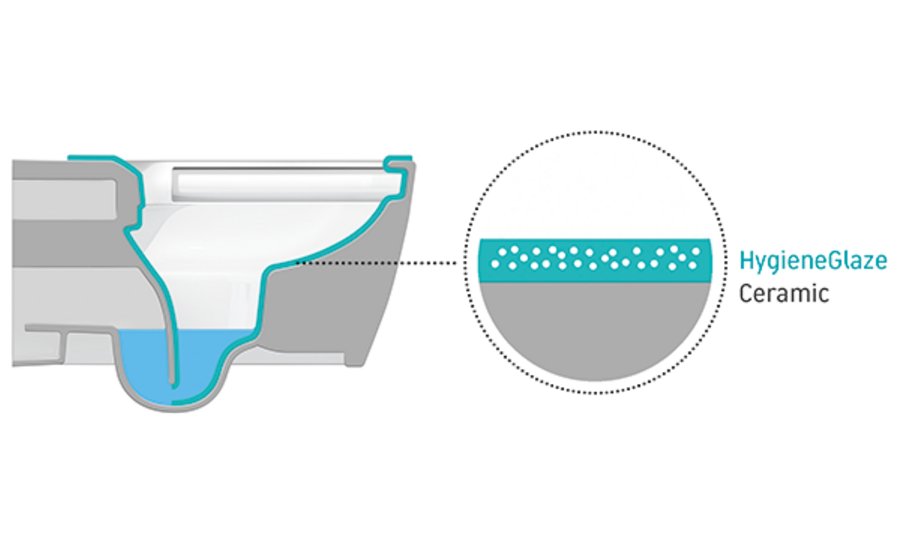 Germs are omnipresent in our everyday lives. In particularly critical areas, such as hospitals, medical practices and nursing facilities, hygiene is an ongoing issue. Also in public and semi-public buildings like workplace, sports facilities or airports, hygiene requirements are high. This is why they are an essential part of the respective building concept. However, awareness of hygiene issues has not just increased in public areas but in the private sphere, too. The consistent use of disinfectant and hygiene measures helps to kill or inactivate microorganisms. Modern concepts combine the targeted use of sterilising substances with preventive measures, including surface coatings. For years, sanitaryware manufacturers have been researching solutions that will give their products antibacterial properties. 
Sanitaryware or tile surfaces are given functional surface treatments and coatings in order to achieve the desired effects. The aim is to kill pathogenic microorganisms, ensuring that surfaces are as germ-free as possible. The oligodynamic effect of positively charged metal ions (for details, see info box) prevents germ cells from dividing and reduces the formation of colonies. A method that has proven extremely effective against micro-organisms but that is not harmful to the human body. "As silver has antimicrobial properties, at Duravit, we also started by researching the use of silver ions on ceramic surfaces", says Sebastian Sander, development engineer at designer bathroom manufacturer Duravit AG in Hornberg in the Black Forest. "However, we weren't impressed with the results, so we decided against the use of silver ions and, instead, to research more effective alternatives in this area", continues Sander. 
The result of this research is a new antibacterial glaze. This development is not a superficial coating but an antibacterial ceramic glaze that provides indefinite effectiveness. A tin-zinc mix is integrated into the glass matrix during firing. Baked into the ceramics and extending from the interior to the rim of the toilet or urinal, HygieneGlaze is effective in the areas particularly susceptible to the accumulation of bacteria and germs. Compared with ceramics with conventional surface glazes, HygieneGlaze destroys 99.9 percent of germs within 24 hours. The effectiveness of the HygieneGlaze antibacterial properties has been scientifically proven by hygienic and microbiological tests performed by the Institute for Hygiene and Public Health at the University of Bonn: the special glaze kills bacteria and germs. With the antibacterial glaze toilets and urinals offer long-term hygiene – without the use of aggressive cleaning agents and disinfectants that are harmful to the environment. 
More information about Duravit you will find here.