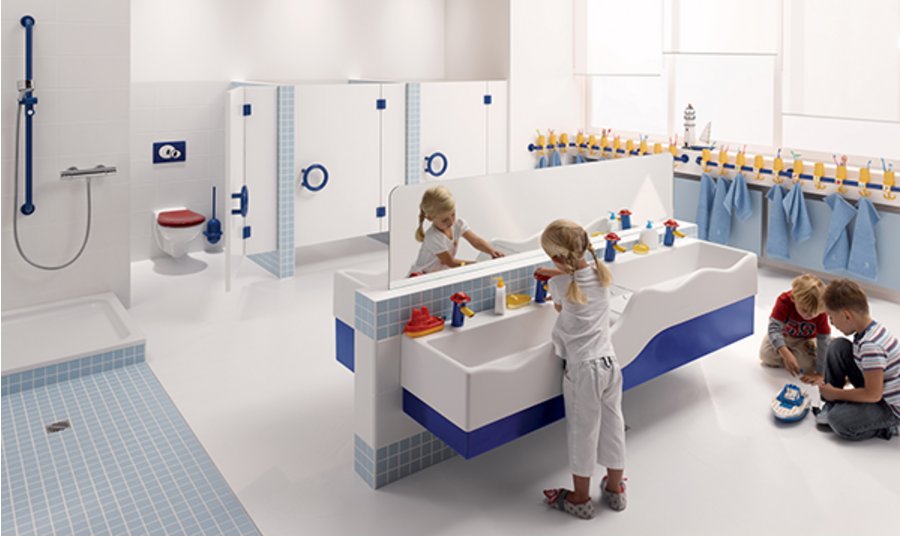 Since 2013, parents in Germany have been legally entitled to daycare for their children from the first year of life. In order to cope with the growing demand for places, new preschools and daycare centres are being built and existing ones extended – and the same goes for the sanitary facilities too, of course. With its Bambini series, bathroom ceramics manufacturer Keramag has launched a product range specially developed for daycare facilities – with washplaces made of the solid surface material Varicor. 
Washplaces for children should be functional, safe and easy to care for. That's why Keramag's product portfolio includes play and wash landscapes made of the robust solid surface material Varicor. What makes it so special: the poreless material is hygienic, durable and can be given any shape desired. And if damage occurs, the material is simply repaired. What's more, its warm, velvety finish makes it pleasant to use – especially for children. 
Ideally, sanitary facilities in preschools shouldn't just take hygiene aspects into consideration, they should encourage the children's development as well. The Bambini wash landscape, for instance, has two levels so that it can be used by children of different sizes at the same time. Besides symbolising the movement of the water, the wave-shaped front makes the taps easier to reach as well. 
But it's just as important not to neglect the fun factor! A panel can be used as a kind of dam, allowing the water in the upper section to accumulate to a depth of up to ten centimetres so that the children can play with little boats or other things in the water. 
The series is available in different variants measuring between 1800 mm and 900 mm and thus suitable for a variety of layouts. The play and wash landscape is designed for between two and four children, depending on its size. The product portfolio also includes single-lever mixers and sensor taps with a child-friendly design, as well as toilets with special potty-shaped seat rings and toilet seats in animal designs with integrated grips and supports. 
Further information: