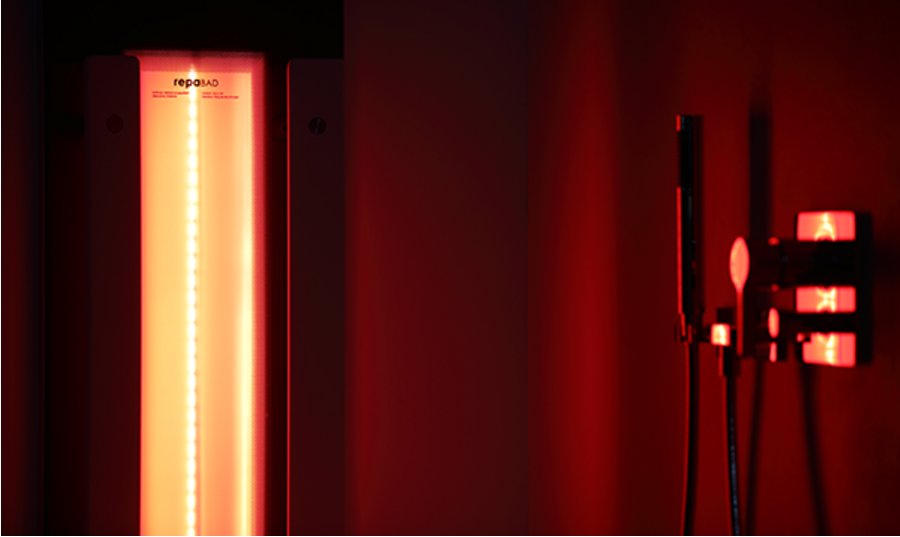 Family-run company Repabad is bringing another health promotion idea to the bathroom: infrared. The Bilbao infrared panel is intended to transform the shower into an infrared cabin, thus adding a new multifunctional place to the bathroom where owners can combine their daily shower with preventive health measures. 
According to the manufacturer, the panel fits into any shower and can be positioned as required. It can also be supplied with seating options such as stools or folding seats on request. The backrests ensure the right distance between the user's back and the infrared source, permitting the heat to have an optimal effect on the body. The element consists of a painted panel frame with an aluminium-effect finish and a glass cover with an integrated infrared heat source. The glass is available in a choice of standard colours – Coffee, Dark Black, Obscure, Pearl and Snow – but can also be supplied in customised shades. The shower module is operated via a touch controls integrated into the glass cover. The standard features also include two solid surface backrests in Arctic White and a chrome wall bracket. 
Infrared generates deep heat that warms about 12% of the skin along the spine. The blood transports the heat inside the body, where it can have positive effects such as reflex relaxation of the muscles, pain relief and the alleviation of localised tension. It also has a positive overall effect on the musculoskeletal system and psyche.