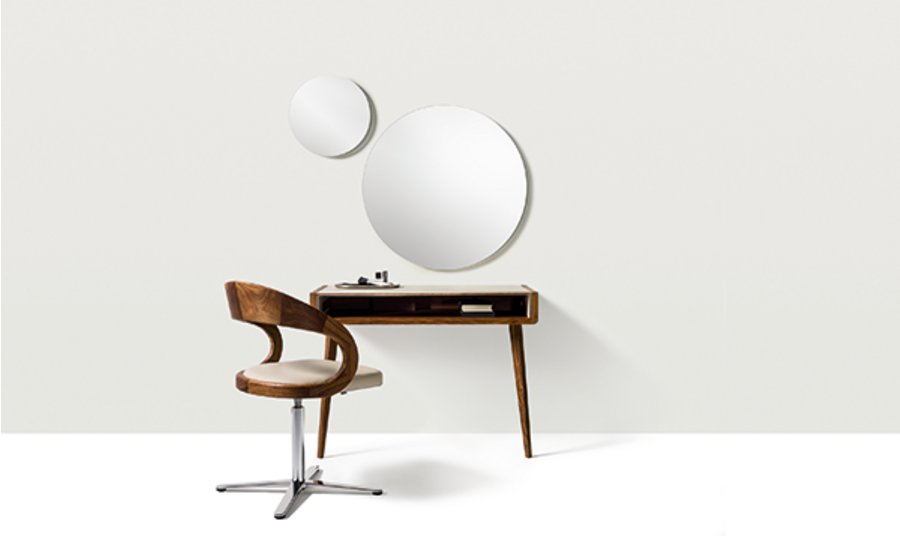 Not only a desk, but also a make-up desk: Sol is truly multi-talented. Two interlocking extendable shells – one made of natural wood, the other upholstered with leather – form the basic concept. Two unique versions are available: supported by two legs or four-legged. Sol cuts a good figure in the home offices as well as in the bedroom, hall and bathroom. 
Tender details support the feminine character such as the delicate wood vein on the front edge of the leather-upholstered upper shell and the lightly flared legs. The technical ingenuity remains discretely concealed until the design elements softly float apart. Available in all types of wood, the organizational system expertly translates classical form language into current design. Designer Sebastian Desch expertly plays with the tension from the rounded and angular contours; exposed cross-cut wooden edges highlight the solid wood character. Used as room furniture, a leather-upholstered rear panel charmingly comes into its own.  
The secret helpers in day-to-day life are housed modestly. An outlet with a USB port, the innovative charging function Qi for mobile phones as well as small speakers in a channel provide order and contemporary functionality, offering a gap as a cable outlet on stand-by even when closed. Cables can be bundled together with a tube made of Stricktex; furthermore an attachment with integrated lamp is available. 
Further information: