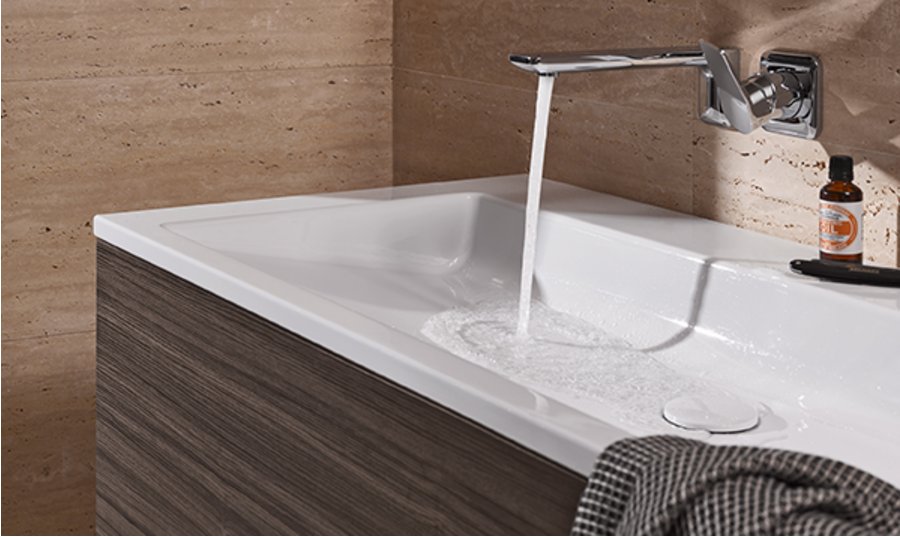 Our society changes constantly. Consequently, even people's demands on their bathrooms change. The individual ideas on what matters in a bathroom and the different social life situations motivate Alape to keep designing new, innovative washplace solutions. With Twice, Sieger Design has developed a functional and aesthetic double washstand solution. Perfectly matched proportions provide both a spacious work surface for accessories and the comfort of having two watering places in one single washstand. The model with base cabinet offers additional functionality. 
Designed for main bathrooms in private homes and hotels, Twice unifies generous and sleek design. Designer Michael Sieger describes the form as follows: "The geometrical top view shows a rectangular, well-defined and continuous mould. Its contour creates a contrast and is therefore a characteristic feature." In addition Benedikt Sauerland, Director Industrial Design at Sieger Design points out some more specialties of its shape: "The mould grows the further it reaches away from the user, forming a gentle curve that reaches its maximum depth in the tap hole area, then reuniting with the vertical edge of the tap area with a soft radius. With its different widths, the framing of the mould resembles a passe-partout – the front is as narrow as possible, the sides have a width of 80 millimetres and the tap area features a comfortable storage surface. This asymmetry creates a formally exciting silhouette." 
Thanks to glazed steel, it is possible to implement this washstand's extremely precise expression. Twice is available as a solitary washstand and or as a model with a base cabinet – with or without tap holes. All models come without an overflow and a white enamelled cap as standard. To be able to hold water, an overflow in combination with a corresponding drain valve is also optionally available. Thanks to the sophisticated design with its inclined, soft-sloping shape, a small amount of water is already sufficient to achieve a quick rise of the water level. 
The model with base cabinet is characterised by an elegant, narrow washstand edge and generous storage space. To enable full use of the space, the drawer can be fully extended from the frame, whereas drawer dividers for accessories or dispenser boxes help organise the internal space. The drawer closes silently thanks to the integrated dampened self-closing mechanism. The front panels are available in the laminate finishes White, Walnut and Country Oak. 
Further information: