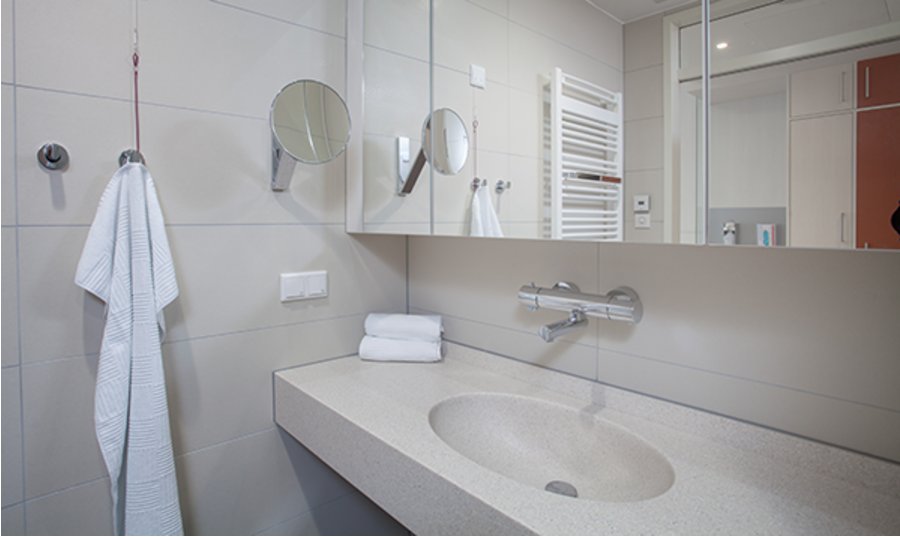 The lung clinic in Hemer, Westphalia, is one of the most renowned there is in its field. Illnesses of the lungs, respiratory system and ribcage have been treated here for 65 years now. In 2015 a building was added to the clinic which, in addition to a new intensive station and weaning station (weaning off artificial ventilation), also houses a comfort station.  
Light colours and modern furnishings dominate the room designs, creating an atmosphere of well-being. Photos in the building depict nature scenes from Hemer. The rooms, with 30 beds, are equipped with state-of-the-art technology, have sufficient space for personal effects, and provide comfortable seating for visitors, too.  
With carefully-chosen products from the Plan and Plan Care range from Keuco, such as a tip-up seat and grab bars in the shower, the rooms' bathrooms allow comfortable and secure personal hygiene for the patients. From the Elegance series, the shower basket for corner installation offers a generous amount of space to place shower utensils and care products. 
The illuminated cosmetic mirror at the wash area simply beckons you to take a closer look. The adjustable arm makes it easy to use, even at various heights. The water can be adjusted to an optimum temperature on the thermostat of the Plan wash basin mixer, but the temperature block of 38 °C protects patients against scalding. The chrome finish of the fittings and accessories harmonises with the high-quality atmosphere of the elective services section of the clinic.  
Further information: