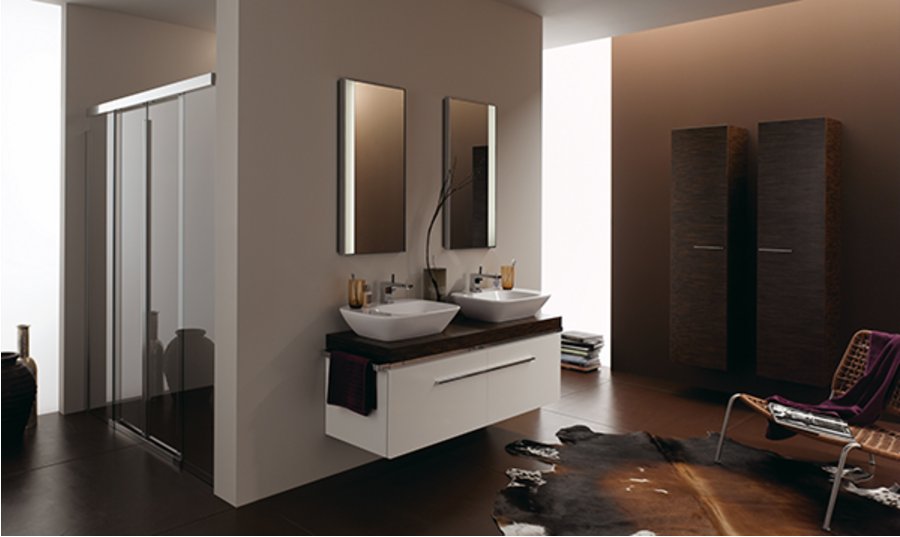 A new bathroom every 20 to 30 years – that is hardly a reflection of our reality anymore. And this is not primarily because individual bathroom design is increasingly lifestyle-oriented, but because we want to adapt it to our various needs. Whether it is for singles, families, or seniors, the bathroom should meet everyone's needs; it should be a stylish oasis of wellbeing, a childproof experimental space, and a safe haven all in one. Trend researchers say that, in the future, variable floor plans and modern installation systems could enhance the bathroom's versatility so much that it will be more easily adaptable to the lives of its users – provided, of course, that there are opportunities and adequate space for renovation.  
Today, even bathrooms that are designed to meet established accessibility standards do not look as austere anymore as they did only a few years ago. At the same time, accessibility starts considerably below these standards: with a spacious, open-plan bathroom design which can be adapted to suit many individual needs and which takes into account future requirements for care; and with floor-level showers and modern features like sensor-activated fittings and lighting systems, programmable water treatments and easy-to-clean surfaces. In the future, the "open bathroom" will look even more comfortable and lifestyle-oriented because it will provide for as much design and comfort as "normal" bathrooms do, whilst featuring options for integrating various technical aids and assistive systems. 
Another central, consumer-driven aspect is user-friendliness, which refers to a bathroom's accommodation of all generations equally. These days, no one wants to move into a retirement home anymore. People would much rather have a chic new bathroom with a spa bathtub, a relax bench and a large, modern "walk-in shower"; many dream of having a make-up table with a large mirror.  
For the kitchen, there are always new innovations: the dishwasher, microwave oven and induction cooktop make everyday tasks easier. In the bathroom, however, patents are rare. Designer Christoph Behling sees great potential here, starting with the toilet. The comfort toilet AquaClean Mera, designed for sanitary ware manufacturer Geberit, is his first step in releasing the bathroom from its technological agony. Innovations like the bidet seat, hot air dryer, odour extractor and heated toilet seat are intended to facilitate everyday hygiene. 
The Silk collection, designed by Michael Schmidt (code2design) for sanitary ware specialists Keramag, has shown that age-appropriate features are not necessarily incompatible with comfort in the bathroom. "With the shift in our society's demographics, the bathroom will become the most relevant and important place in the home", Schmidt predicts. "If you want to live at home as long as possible – and according to many studies, that is what over 90 percent want – then a bathroom that can accommodate people of all ages and that provides optimum accessibility must become the standard. By the way, a bathroom like this is also extremely well suited for children because it is safe", the designer continues with regard to the number 1 issue for the future of the bathroom. 
More and more people are recognising that an appropriate bathroom is vital in order for a life to remain autonomous for as long as possible. This means that, in the future, the sought-after bathroom will be one that accommodates the needs of entirely different users – the keyword is "universal design." The "easy bathroom," based on the concept of the multigenerational bathroom, is simple and practical and of timeless beauty – a room for everyone, from infants to seniors. Whatever the kind, disabilities cannot be the focus in planning a bathroom. Instead, anything that would discriminate against individuals must be left out. The secret is in reduction.