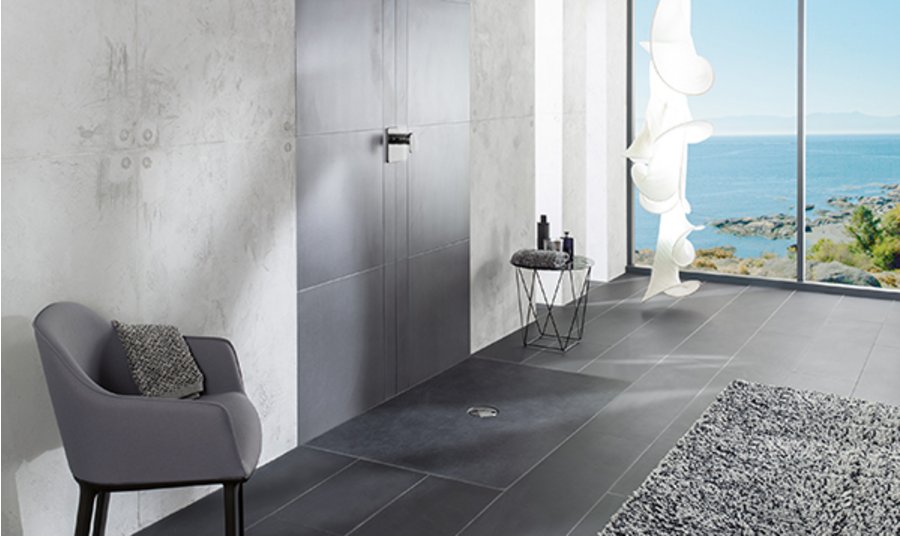 High-quality, nice and individual: That's how people want their bathroom to be. If the sanitary ceramics and tiles harmonise optimally, then that's even better. This is exactly what ViPrint, the innovative, digital printing technology for ceramic shower trays from Villeroy & Boch, makes possible. 
With ViPrint, decors can be printed in 19 sizes on the ceramic Subway Infinity shower trays – a decor that matches the floor tiles. The decor reaches exactly to the edge because the shower trays are only cut after being glazed, imprinted and fired. The extremely sharp-edged cut then enables a flush-fit installation in the tiled floor. The result: Every Infinity shower tray combines perfectly with the tiles with regard to its shape and design and ensures that the floor has a uniform and harmonious appearance. Three decors are currently available as a ViPrint version: Lodge Beige Effect, X-Plane Creme Effect and X-Plane Anthracite Effect. Fur-ther decors are gradually being launched. 
Thanks to theis process, Villeroy & Boch can now offer new options for individual bathroom design. Villeroy & Boch has made substantial investments in its factory in Valence d'Agen for the digital printing machines and cutting machines. Production here is at present time mainly for the French market. Chris Tattersall, ViPrint project manager, explains: "With ViPrint, we want to strengthen our presence in the fast-growing shower tray market. Furthermore, the innovative printing also makes ceramic shower trays interesting for other markets in addition to France."  
The ceramic Subway Infinity shower trays are available in a wide variety of models: There are 27 sizes, from 80 x 75 cm up to the XXL format 160 x 100 cm as well as individually cut special sizes and shapes. The drain, which is flush-fitted in the shower tray, creates a clear design with a seamless look. The standard anti-slip colour coatings have anti-slip class B (PN18), the ViPrint versions anti-slip class A (PN12). 
Further information: