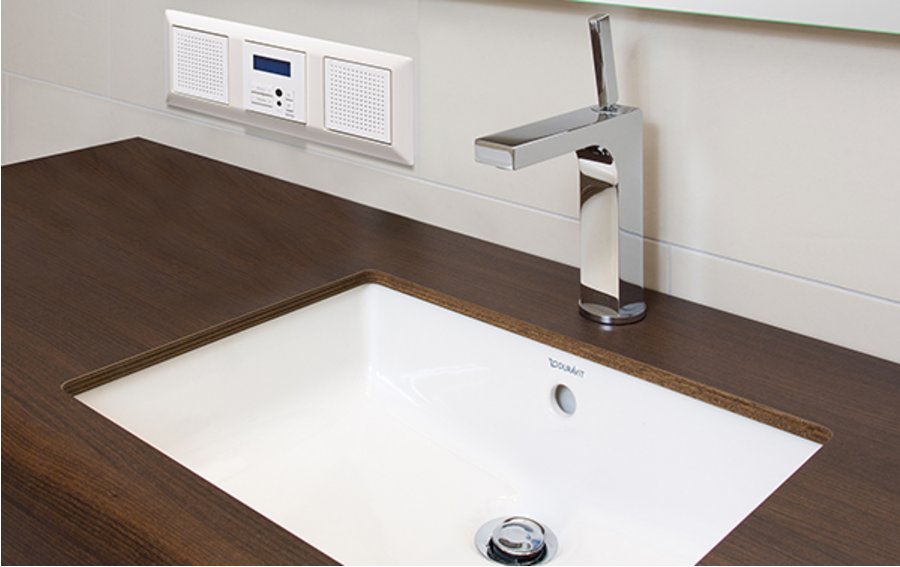 Nowadays many people have their favourite music stored on their smartphone, tablet or notebook so that they can listen to it whenever they like and wherever they happen to be: out jogging, in the car – and of course at home in their own four walls. The new Häfele sound systems 105 and 420 provide a particularly smart solution, invisibly transforming a piece of furniture into an entertainment centre. They are equipped with a Bluetooth receiver and up to four exciters and have been specially developed by Häfele for integration with custom-made or industrially manufactured furniture. According to the manufacturer, the exciters turn any hard surface such as wood, glass or metal into a speaker that reproduces music and voices with amazing sound quality. 
Häfele's sound products are quick and easy to fit and can be installed either visibly or invisibly in cabinets, sideboards, tables and other types of furniture in domestic or commercial settings – in the bathroom, kitchen or living room, in doctor's practices, offices or hotels. A Bluetooth-enabled smartphone, tablet or laptop is all that's needed to select the music and adjust the volume. 
The 105 and 420 systems are both suitable for invisible integration with furniture and are powered by a 12 V plug-and-play Loox driver. The one-box solution of the 105 sound system consists of a single element that incorporates both the Bluetooth receiver and the exciter. It is hooked up to the power supply by connecting the lead supplied with the system to the driver. Häfele's 420 sound system is equipped with up to four exciters and can be used wherever a stereo effect is required. Every additional exciter used in combination with a larger surface increases the volume. There is also a version of the 420 sound system that features an integrated FM radio and remote control. The plug-and-play system can be fitted virtually anywhere, even in small cavities inside furniture. 
The 12-volt audio system has an independent built-in RDS radio with remote control, a Bluetooth receiver or a docking station with an integrated Bluetooth interface. The speakers are intended for space-saving visible installation in flush-mounted boxes or furniture but are also available in the form of exciters for invisible installation. All the elements are easily combinable and specifically geared to a 12-volt system. As a result, lighting and sound can for instance be powered by the same driver. The white built-in RDS radio with remote control can store nine preset frequencies, allowing users to select their favourite stations quickly and conveniently. 
The radio can also be combined with a Bluetooth receiver with intuitive single-button operation or the smartphone docking station, enabling users to listen to music from their mobile devices as well as the radio. Also available from Häfele to go with this system: 12-volt speakers for flush-mounted boxes and building into furniture, which can be hooked up with all 12-volt audio components by means of plug-and-play connectors. Alternatively, exciters can be used to make the speakers completely invisible. 
Further information: