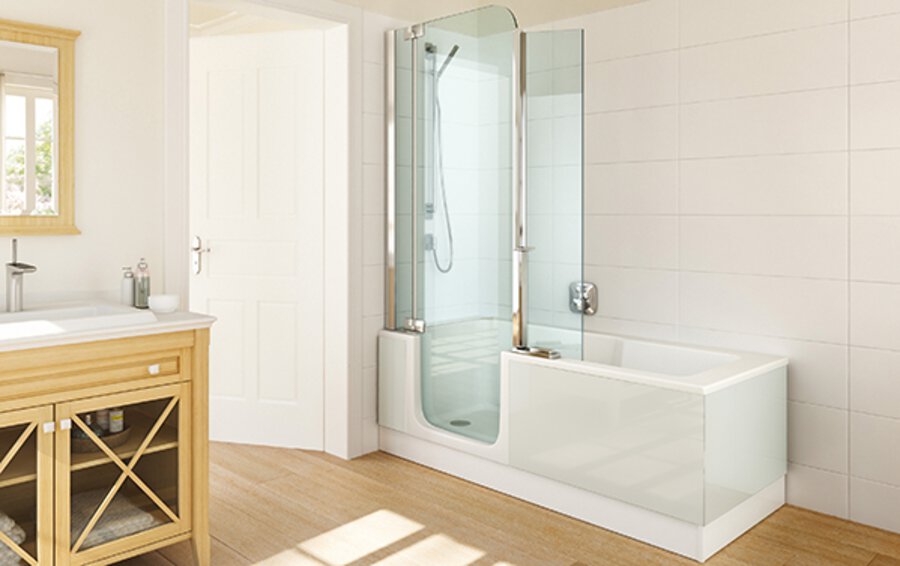 The Twinline is the first fully-fledged combination of a bathtub and a shower. This idea proved itself to be a forward-looking concept when it was first presented at the ISH in 2005. The success of the TWINLINE greatly exceeded all expectations. The huge demand for this new comfort solution for the bathroom led to continual further development and expansion of the TWINLINE range with many different models. 
Especially the target groups bathroom renovators and owners of small bathrooms were enthusiastic about the idea of the shower-bathtub from the beginning. In 2010 Artweger therefore extended the product line and, in addition to the classic model, launched a completely new series onto the market - the Twinline 2. This series of models is the ideal solution for rapid tub exchange – especially for small bathrooms – due to its rectangular tub design and the mechanical safety lock. 
With the launch of the Artlift in 2013 the principle of the shower-bathtub was further developed once more. In addition to comfortable access to the tub and the choice of bath or shower this series of models with its integrated comfortable seat lift provides significant ease when sitting down or standing back up in the tub. The innovative shower-bathtub with barrier free access and seat lift supports independent living within one's own four walls, especially for elder or ill people. With this product development Artweger has reacted to the changing needs of people in a society which is becoming increasingly aged. 
For the 10th anniversary of its shower-bathtub Artweger has improved the splash protection of the Twinline 2 with an optional door element. An additional wing of genuine glass is mounted on the shower doors which can be easily folded inwards or outwards. The glass wing can also be mounted on existing facilities and is possible for every size Twinline 2 as well as for all Artlift models. That makes sure that everything remains dry outside the tub even during the most energetic shower. 
Further information: