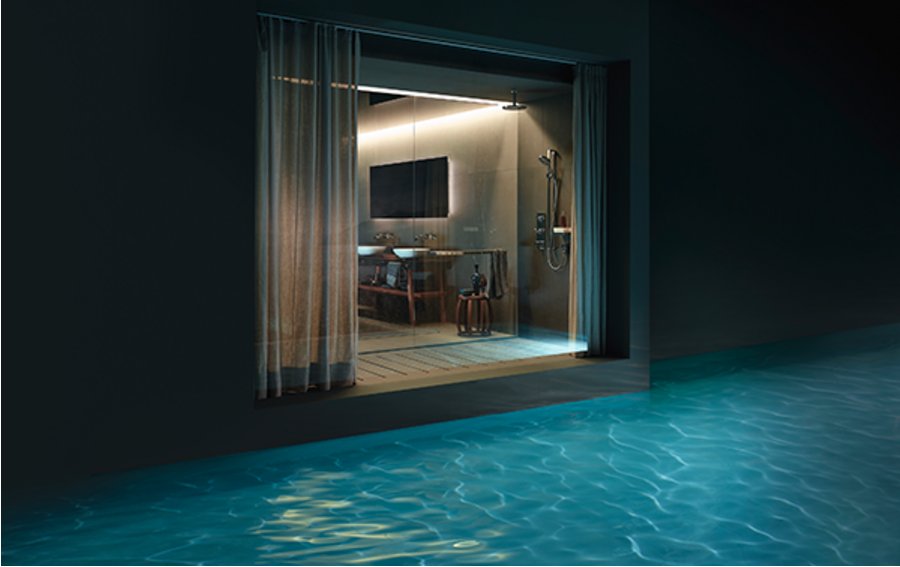 Aesthetics and functionality: with Axor Citterio E, Philippe Grohe and Italian architect and designer Antonio Citterio are introducing a new collection that aims to exude value and elegance. It is their third jointly developed collection. 
"We have been collaborating very successfully with Antonio Citterio for 14 years now," explains Philippe Grohe, head of design brand Axor. "The success story that began with the Axor Citterio range is continually evolving: Axor Citterio E is an appealing blend of new and familiar elements – top-quality, elegant and timeless products that considerably enhance not just the bathroom but the water itself."  
One hallmark of Axor Citterio E is the suspenseful relationship between the soft shapes and precise edges and surfaces. The slender, rounded handles that run through the entire collection are another striking feature of the design. For the single-lever faucet they have been translated into the form of a modern, upright joystick, whereas in the case of the three-hole faucets they have been implemented as classic cross handles. Altogether, the 37 individual elements add up to a harmonious, inviting look that permits a wide range of uses in all kinds of different stylistic settings – from an Art Nouveau villa all the way to a modern apartment in the city. 
"Our latest collaboration gave rise to an 'essence of luxury'. Besides being extremely flexible, the products are also incredibly easy to use and have a very pleasant feel to them," says Antonio Citterio. 
The entire collection is based on a highly appealing control concept that has been implemented across the range, from the washbasin and bathtub all the way to the shower. Thanks to their archetypal signage, the different handle designs of the thermostat modules help the user understand their functions. The cross handle clearly indicates that it is used to regulate the volume of water, the cylindrical thermostat handle that it is for adjusting the temperature. In hotel bathrooms, a two-way diverter clearly shows which showerhead has been selected. In addition, Hansgrohe's Select Thermostat technology and its clear icons permit intuitive control of the overhead, hand and side sprays at the push of a button. And the bathtub fittings are just as simple to use. Pulling on the self-explanatory button– even with soapy hands – is all it takes to switch from the bath filler to the hand shower.  
All the Axor Citterio E fittings are available from the in-house Axor Manufaktur in six particularly scratch- and detergent-resistant PVD finishes with a polished or brushed surface: chrome, gold effect, red-gold, black chrome, nickel and bronze.