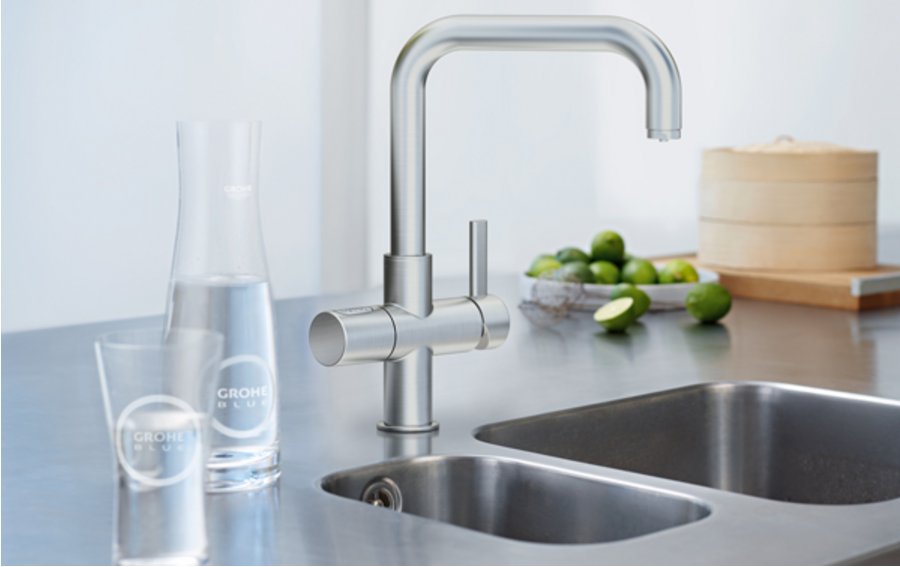 In the kitchen, chrome finishes are now facing competition from matt stainless steel in various shades. The familiar mirror-like gleam of chrome is giving way to velvety elegance. Grohe's new kitchen faucets with a Supersteel finish also aim to exude this unobtrusive, understated look and become the new favourites for the kitchen sink. Thanks to their matt surfaces, they go well with virtually all stainless steel sinks and help create a harmonious overall look in the kitchen.  
Besides adding a sensuous, emotional touch to the kitchen faucets, the Supersteel finish has other advantages too. According to the manufacturer, the surface hardness is three times higher than that of chrome and the coating is even ten times more scratch-resistant. What's more, the matt finish is also less vulnerable to fingerprints or splashing water.  
The secret behind these finishes is an innovative PVD technology. To begin with, the faucets are given a matt chrome finish and brushed. Then a PVD (Physical Vapour Deposition) process is used to apply the coloured coating. Faucets processed in this way are said to be considerably more hardwearing than fittings with conventional chrome finishes.  
Grohe offers a broad selection of Supersteel products across all price segments and in various designs. They are available for the Blue and Red water systems, the classic Minta model with three spout variants, the touch-activated Minta Touch hybrid faucet or the functional K7. The upmarket Supersteel finish also adds that certain something to modern faucet lines for the mass-market segment like Essence, Concetto and the medium-height Eurosmart Cosmo. Soap or washing-up liquid dispensers with a matching Supersteel finish are also available from Grohe. 
Further information: