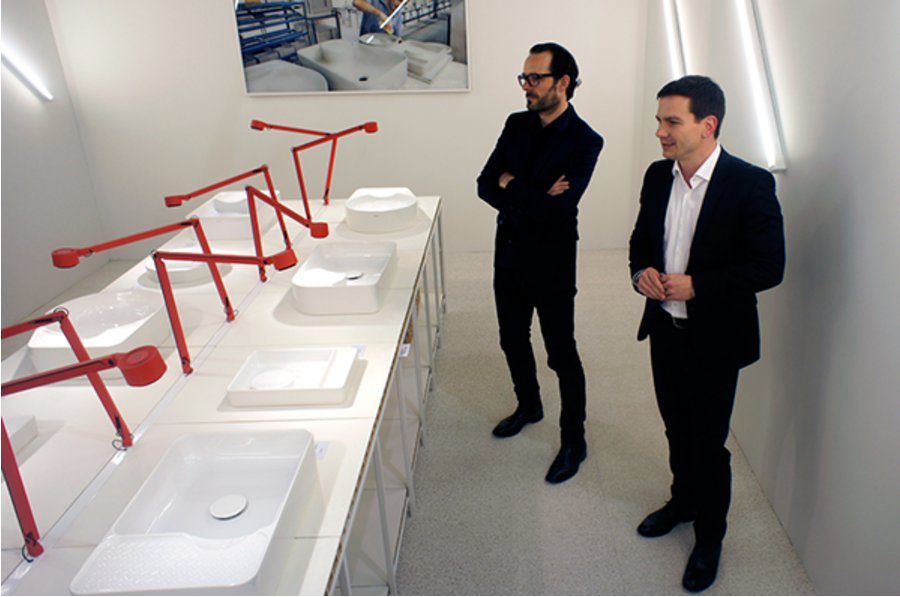 With SaphirKeramik from Laufen, a new material is being launched on the market. The hardness of this material permits shapes which were previously not possible. Together with Konstantin Grcic the Swiss-based company hat designed a series of new products with this ceramic. In the interview the German designer talks about the collaboration with Laufen, the characteristics of SaphirKeramik, creative processes and technical challenges.  
Mr. Grcic, how and when did you first come to collaborate with Laufen?
The introduction came from Toan Nguyen, and I had a meeting last October at Laufen's HQ and one of its factories, where I met Marc Viardot, Director Marketing and Products, and Alain Reymond, Vitreous China Product Manager. It was the first time I've seen the production of this type of ceramic. I have some experience with ceramics — tableware for Rosenthal and Nymphenburg — but on a much smaller scale. Laufen's products are not only bigger but produced on an industrial scale, which is very impressive. The briefing was open for interpretation, but on another level it gave a certain structure, which I think is helpful. From the start we were talking about concrete things — the material with its properties and limitations. Laufen's technical team was very open to sharing its immensely valuable expertise with us. We agreed that we wanted to challenge things, nothing was impossible to try.  
What appealed to you about your collaboration with Laufen? Was it the company's culture of promoting creativity? Or the creative possibilities offered by Saphirkeramik?
The prospect of working with SaphirKeramik, a very innovative and new material, certainly gave the project an extra edge. I always enjoy technology! Bathroom ceramics are a very classic project in industrial design. The opportunity to explore a new material in such a traditional domain is probably quite unique. Laufen appealed to me because of its culture, its quality. The brand has a very good reputation, but in the end it's the people who make the difference for me. Even the fact that Laufen is Swiss and not far from where we are in Munich is an aspect I have learnt to appreciate. My experience has taught me that speaking the same language and being within reach of each other really helps any collaboration.  
What was it like to work with SaphirKeramik? Does it has its own design language?
The main challenge was how to bring out the true characteristics of SaphirKeramik in our project. SaphirKeramik's key elements — its precision, thin-wall thicknesses, small radii — gave us interesting challenges. We tried different directions, but eventually, the important turning point was to go into surface and to create patterns with a fine definition. These surface treatments and patterns are partly decoration, partly functional. They prevent objects placed on them from slipping and leaving stains. As for the products' forms, I wanted them to be simple, functional, more architectural, not too expressive.  
Could you see the material inspiring you to make different types of products?
Absolutely, that was part of the original briefing and something we've already done by designing two trays besides the three washbasins. These trays are simple elements, independent, moveable, not built-in. They come from another world, one I know well — tableware, accessories — whereas Laufen's world is intimately connected to architecture and installations. Saphirkeramik really inspired these objects. We think the material and Laufen's expertise in producing it will lead to a whole range of items that works around the world of bathrooms. They add a playful aspect. Overall, the project has a two-phase plan: the washbasins — one being rectilinear, the other a mixture of circular and rectangular — and trays will be unveiled at Milan this year, then we'll be developing a much more comprehensive range of bathroom ceramic products at the Frankfurt sanitaryware fair ISH next year.  
Can you take me through the creative process behind your new designs for Laufen?
A very important phase in it is an intellectual process — just thinking — which comes before making drawings, building models. Having been to Laufen, having seen what they do, how they do it, having met the people formed the foundation for everything. Based on that I then need to start making sense of all the information, putting everything into an order and drawing my own conclusions from it. At this time I involved my assistant Charlotte Talbot in the project. We would discuss first ideas, then produce drawings and mock-ups. Research is a big part of our creative process. It's a phase when you want to be very open, very sensitive to anything that could matter or be important. This involves us looking at all sorts of things: we looked at ceramic vessels, their proportions. We looked at the tactile aspect of all these things, not just their functional qualities. It's like this glass of water I'm holding. Most drinking glasses fulfil a similar function but what makes one different from another? It's that one glass feels better, more elegant, seems to have the right proportions or weight. The same applies to washbasins which aren't just about washing your hands in. Throughout a creative process, many things happen in parallel. Its intense, but a great learning phase, an exploration into almost everything that could be relevant for the project. As designers we can draw from certain experience, however, most importantly we want to see things without any preconceptions. 
What technical challenges did your designs for Laufen present?
Creating the textures is a huge technical challenge. We're still in the process of finding the right scale for these textures, their exact definition and perfect measure. How deep, pronounced, sharp or soft should they be?  
Are there any similarities — aesthetic or otherwise — between your designs for Laufen and your other work?
Yes. The first similarity is how I approach projects. I develop my ideas out of a deep involvement with any project. I want to know everything about it, about the industry related to it, its technology, materials, functionalities. Only a solid understanding of these matters gives me the leverage to push boundaries and question existing conventions. 
Further information: