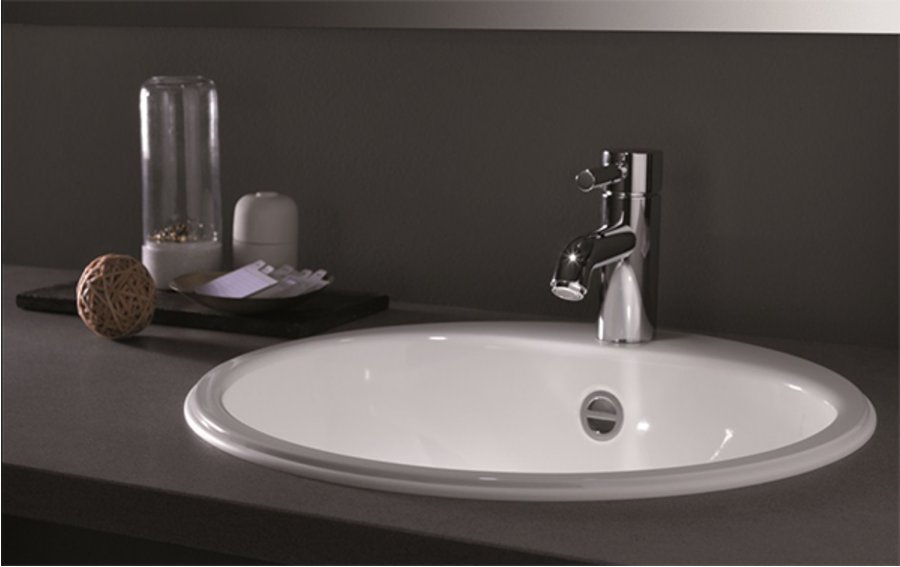 The 1970s are regarded as the first decade that saw a "proper" new beginning after the war, as a time of crazy experiments, futuristic concepts and daring cultural ventures. In Cologne, professional circles were admiring Verner Panton's Visiona II, his highly integrated and trendy interior world with the look and feel of a spaceship. The last kidney-shaped tables from the 1950s were being taken to the dump and the fashionable extravagances in all areas of daily life were making their contribution to the phenomenon of the "gaudy '70s".  
It was this exciting and unpredictable time that saw the birth of a product idea that you would actually have expected to come from the Bauhaus era: a puristic entity with a clear-cut silhouette, geometrically shaped, very functional and with an unusual choice of materials – particularly because, in those years, enamel tended to play a rather secondary role as consumers rushed to snap up the brightly coloured plastic products that were flooding the market.  
But because it was something totally new, the EW 3 was very much in touch with the times all the same. However – and it was pretty much alone in this respect – this product did not pander to a temporary hype; rather than parading one of the numerous new fashions, it initiated a new development for private and semi-public sanitary spaces. With its perfectly round exterior and typical kidney-shaped bowl, it was designed for use with a single-lever mixer on the edge of the basin. By the '90s, more than 25 models had been launched and were available with different shapes and diameters as part of the standard range. From subtle Bahama Beige all the way to vibrant red and bright blue – the basins were available in a wide variety of colours. 
The success story of the built-in basin thus began with the EW 3. There is now a revised version that is intended to provide a modern and technically advanced alternative to the classic rather than replace it. The most striking new feature is the absence of the PVC tape otherwise used to ensure a tight fit between the basin and countertop. Thanks to today's new edge processing methods, the new edition no longer needs the sealing tape. The EW 3.2 is simply and invisibly sealed with silicon, which ensures a totally watertight seam. In addition, four clips prevent the basin from slipping out of place on the countertop.  
Another advantage of the EW 3.2 lies in its glaze: the underside is now completely glazed in white as well, allowing it to blend in harmoniously with the kind of open systems often found in projects for the contract sector. And reducing its edge height by two millimetres to just six millimetres only enhances the slender good looks of the EW 3.2. These very subtle modifications take the basin to a new level without leaving the original idea behind. 
Further information: