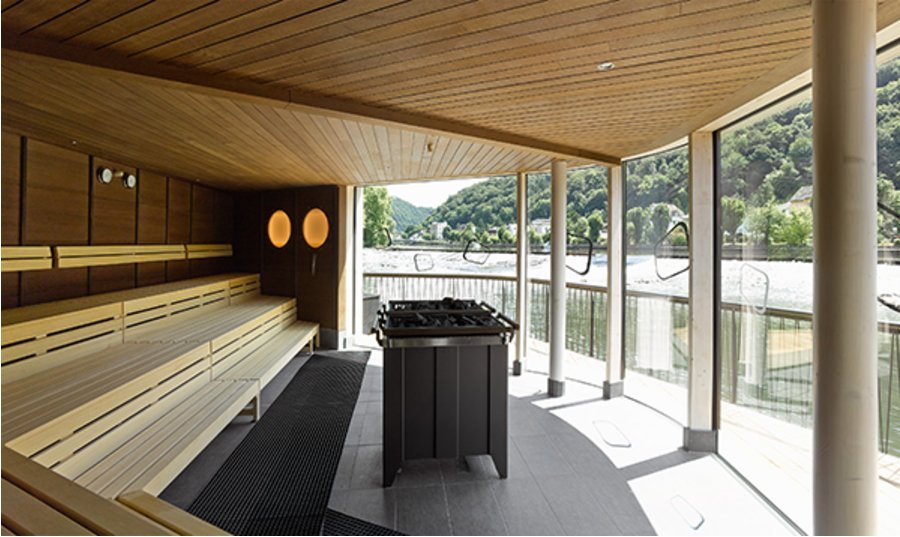 It's the jewel of the Emser Therme sauna park: the first year-round river sauna in Germany. Located on a pontoon on the bank of the Lahn, the sauna adapts to the movements of the water and is thus the first floating river sauna. The dream of wellness on the river confronted the planners with some considerable challenges. The extreme fluctuations in the Lahn's water level called for meticulous planning. The sauna had to be executed as a floating construction whilst nevertheless meeting the requirements of classic structural engineering. 
With an area of 250m², it gives sauna guests a unique view of the Lahn Valley and Silberau Island opposite. The vista opens up through floor-to-ceiling windows. The design of the sauna is based on a yacht, the lamps in the interior resemble portholes. Like the entire Emser Therme complex, the river sauna picks up on the theme of river gravel with soft curves in its floor plan. The materials were also chosen to echo those in the Emser Therme. Whilst the exterior of the river sauna is wrapped in larch, wall panels in brushed alder, an abachi-clad ceiling, porcelain stoneware and glass mosaic tiles conjure up a feel-good atmosphere inside. The area as a whole accommodates two Finnish saunas, a relaxation room and a sun deck.  
On the riverbank side, the sauna has been designed with a closed frontage to ensure guests remain totally undisturbed. Accompanied only by the gentle murmur of the river, they can enjoy total relaxation on the water. "The sight of the river outside is something special," says the wellness centre's manager Andrea Meurer-Wiedmayer. "The view from there is really unique, especially because it makes you feel as if you're floating on the Lahn." The river sauna for the Emser Therme is a boon for the entire region and an irresistible invitation to kick back and relax – and not just on today's Sauna Day. 
Further information: 
www.emser-therme.de