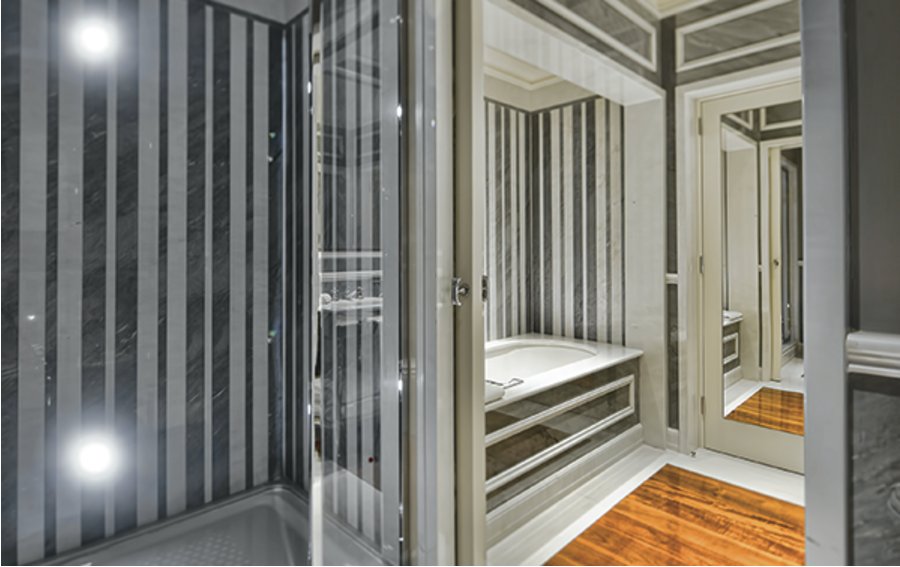 The J.K. Place, a prestigious boutique hotel, has now opened a 5-star establishment in the heart of Rome. Located centrally at the Via Condotti, it offers its guests a vibrant city centre atmosphere combined with the private ambiance of a high-end hotel. The rooms of the historic building, which dates back to the 17th century, are furnished with an exceptional sense of style. Equally as much emphasis on exclusive design was applied to the bathrooms of the J.K. Place Roma, which feature baths and enamelled shower surfaces made by Kaldewei. 
With its superb city centre location and incorporated J.K. Café, the third opening of the prestigious J.K. Place hotels has the potential to develop into a trendy hangout in Italy's capital. As a member of the "Leading Hotels of the World", a collection of international luxury hotels, the J.K. Place Roma blends individuality with premium quality at 5-star level. The design of the establishment bears the hallmarks of renowned Italian architect Michele Bönan, who already designed the glamorous J.K. Place Capri and J.K. Place Firenze. Bönan created the new luxury boutique hotel in the old School of Architecture of one of Rome's universities with great attention to detail. The combination of modern and antique design elements with exclusive works of art makes the hotel a cut above the rest: 30 individually styled rooms and suites with wood panelling and achingly tasteful bathrooms featuring classic Carrara marble are inspired by the pleasures of a sweet life – the "dolce vita".  
The upscale interior of the bathrooms at the J.K. Place Roma feature Classic Duo baths alongside Conoflat shower surfaces made of 3.5 mm steel enamel by Kaldewei as basis for a personal retreat. Both designs were created by the Italian design office Sottsass Associati. Two ergonomically shaped backrests make the Classic Dou ideal for sharing and offers more than sufficient space and comfort. The Conoflat derives its characteristic design from the central enamelled waste cover, which blends absolutely flush with the shower surface, also made of steel enamel. Providing equally as comfortable a shower experience with floor-flush access and elegant design, the Superplan and Superplan Plus models integrate harmoniously with the appealing bathroom concept of the boutique hotel. 
Further information: