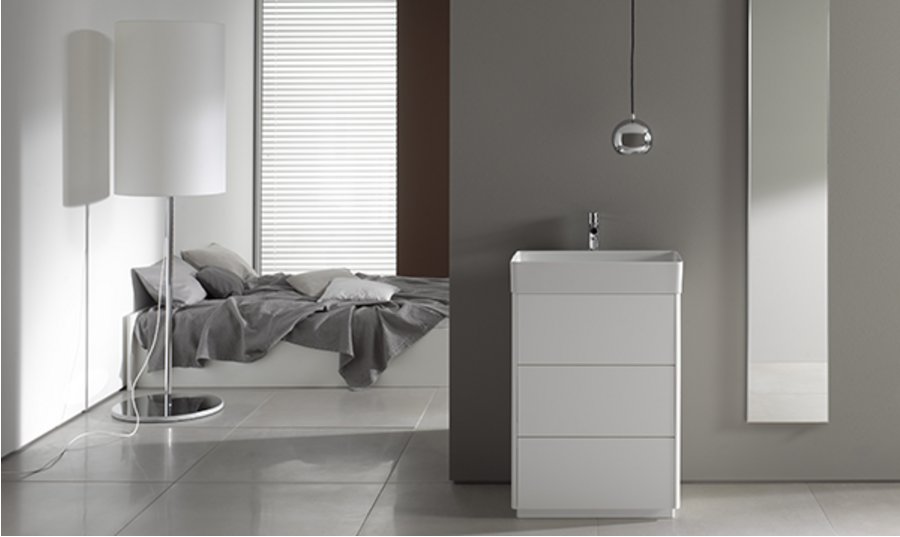 To date, stability and shock resistance of washbasins required a certain wall thickness. The new SaphirKeramic from Laufen is extremely hard and stable thanks to the addition of the material corundum and opens up completely new possibilities in bathroom design. Now wall thicknesses can now be greatly slimmed down and edges and corners formed more accurately without any loss of stability and breaking resistance. The refinement which has now become possible takes into account the demands placed on a modern, minimalistic bathroom design. The Saphir-bowls from Laufen impart an appealing lightness and limit themselves in a most beautiful shape to their direct function: holding water. 
The washbasin bowls were designed by the Stuttgart based designer, Andreas Dimitriadis (platinumdesign). "The new ceramic from Laufen offers me, as a designer, unforeseen possibilities in design and requires completely new thinking," says an enthusiastic Dimitriadis. "We are now thinking in terms of precise edges and wall thicknesses instead of surfaces and tolerances." In fact, Dimitriadis and his team worked with models made of cardboard during the design process so that they could realistically reproduce the thin wall thicknesses of only about 4 mm and defined edges with 1-2mm radii. By comparison: with classic ceramic, wall thicknesses of 8 mm and radii of 7 to 8 mm are standard. 
However, the Swiss manufacturer and the Stuttgart designer paid particular attention to ensuring that, despite all the precision, the bowls made of the new ceramic retained the natural character of ceramic. "In technical terms, even more precision would have been possible," Dimitriadis confirmed, "but we intentionally dispensed with this in order to retain the sympathetic, body-friendly appeal of the ceramic – in body care, no one wants to become acquainted with sharp corners and edges." 
The proportions of the washbasin bowls also had to be reassessed. On the one hand, the bowl exterior makes a very compact impression, but, on the other hand, the inside of the bowl looks very large owing to the thin walls. "Finding the optimum ratio was a real challenge," Dimitriadis says, "for example, we had to make the rectangular washbasin bowl slightly lower than the square one so that a balanced overall impression was created." The square washbasin bowl is produced with the dimensions 360 x 360 x 130 mm, the rectangular one with the dimensions 600 x 340 x 110 mm. "Even though it is a paradigm change in the design process, I am looking forward to creating more designs with the SaphirKeramik," Dimitriadis adds. "The possibilities are simply fantastic – any designer would be inspired by the options now available." 
Further information: