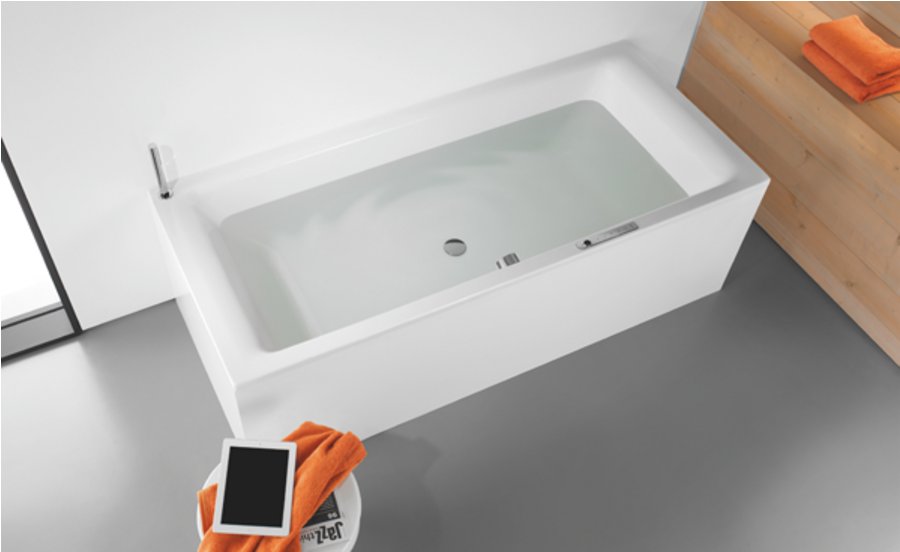 Often, the time before Christmas is swallowed up by busy preparations: shopping for presents, baking and cooking, organising Christmas and New Year's Eve parties. Amidst the bustling rush, there is nothing like a good soak in the bath for a much-needed time-out to immerse in tranquillity, reflect on the year gone by, and make plans for the New Year. The new bath audio system from Kaldewei helps to enhance this experience of relaxation. Sound Wave provides the option not only to listen to music, the sounds can also be gently felt through the bath water – an altogether new wellness experience for the senses... 
The Kaldewei Sound Wave system has a receiver that plays back audio files from a smartphone, computer, tablet PC or any other Bluetooth-enabled device. With the bath acting as the sound box, it delivers an extraordinary sound experience. Be it reflective tunes to escape the stresses of life or Christmas classics to get into a festive mood – the Sound Wave is the perfect way literally to immerse in music and experience wellness as never before. With Christmas therefore promising to be a relaxed affair, there is nothing in the way to start the New Year feeling refreshed and in high spirits. 
Comprising two transducers, six acoustic panels, a control box and a receiver, Sound Wave is quick and easy to combine with any Kaldewei bath model. The individual components including Bluetooth receiver are concealed under the bath. The sound system is operated via the audio device connected via Bluetooth – simply select some favourite tunes, settle back and enjoy a whole new way to relax with an extraordinary sound experience... 
Further information: