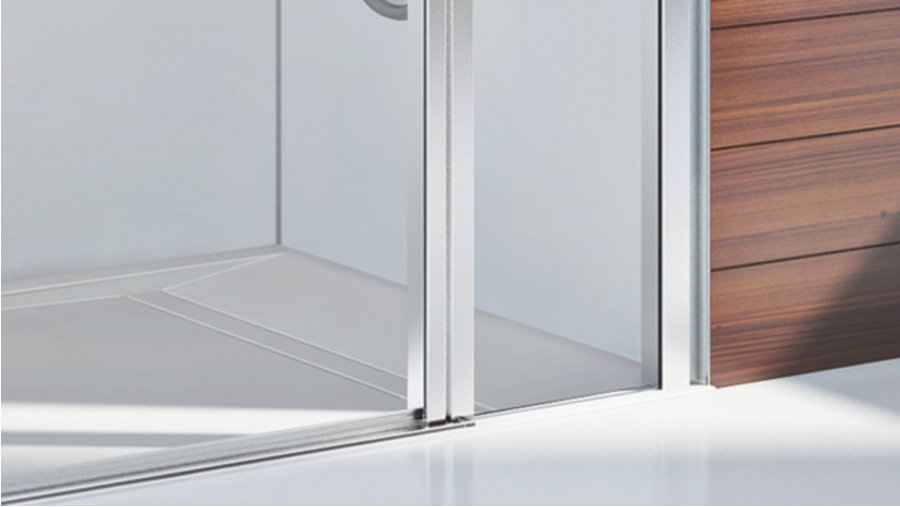 With Fjord Duscholux presents a shower tray in an unique design. The asymmetrical position of the drain with cover in the same colour as the shower tray makes drainage technology invisible for the user.  
The floor-level mounted shower tray is made from uniform coloured mineral-casting with attractive design. The drain is especially innovative with a narrow channel identical to the width of the shower tray. As the cover is the same colour as the tray, drainage is invisible for the user. The edge of the tray is aligned to the width of the shower drain to give a harmonious appearance.  
Four different colours are so far available for delivery. The natural stone finish is also another advantage of mineral-casting as well as a wide choice of colours allowing for a good match with floor tiles. The smooth, closed surface provides for an easy cleaning.  
Fjord is 900 millimetres wide and available in 900, 1000, 1200 and 1400 millimetre dimensions. Additional sizes are planned along with an expanded sound insulation package. A height of 135 millimetres is required for floor-level mounted installation, the shower tray can also be mounted on finished flooring. The flush-fitting covered drain and positioning at the edge enables a large, comfortable standing area for showering.  
The new shower tray can be used for all shower enclosures. The prepared connections for six optional tub feet make installation especially easy. The installation set is also easy to mount thanks to harmonised interfaces. Both drains are already pre-fitted with adapter units for connections that only require to be attached. 
Further information: