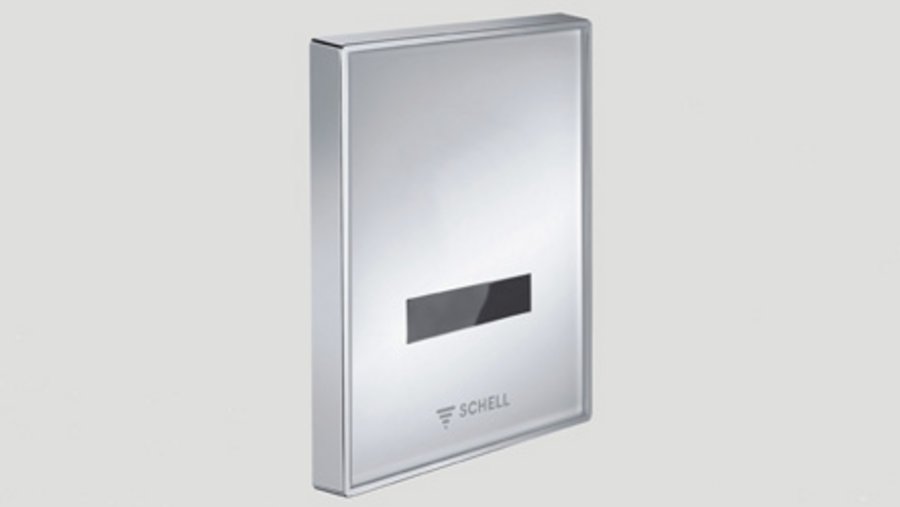 Hygiene and economic efficiency are important factors for urinal installations. A distinctive design, however, also contributes to the value of the sanitary equipment and fosters careful treatment on the part of the user. With "Ambition E", fittings specialist Schell intends to point the way in purist design for sensor-controlled urinal flush fittings.  
"Ambition E" seeks to address many planners' desire to enhance the architectural quality of the room with minimalistic clarity. At the same time, the fitting is meant to ensure that investors and operators can depend on long-term economic efficiency in their sanitary facilities.  
With "Ambition E" Schell, a full-range supplier for all public and commercial sanitary facilities, is extending its product range to include a hands-free urinal flush fitting with an elegant design language. At the same time, the new application technology completes the "Ambition" series with its glass panels for toilet and urinal flush fittings. The design and materials are identical with the manual panels of the flush fittings: a slim, chromed frame surrounds the glass surface with the sensor window, which is available in either white or black tempered glass. 
The optimised electronics of "Ambition E" represent a crucial new feature, resulting in an even greater reduction in the amount of water needed to flush the urinal: when visitor frequency is high, at stadiums or event venues for example, the electronic module automatically switches to water-saving mode – what Schell calls the "stadium function". Then flushing takes place once per minute – and continues at this rate until usage frequency drops off again. According to the producer, the automatic adjustment of the flushing intervals can increase the water savings in urinals by up to 30%, depending on where they are deployed. "Ambition E" carries the WELL water and energy saving label and has qualified for the A rating in the "Public" category. To prevent odours developing when the urinal is not used for longer periods, the fitting is also equipped with a 24-hour stagnation flush. Since the enhanced electronics are largely responsible for the new fitting's top rating, Schell will also be implementing them in all models of its tried and tested urinal control "Edition E" from now on. 
Further information: