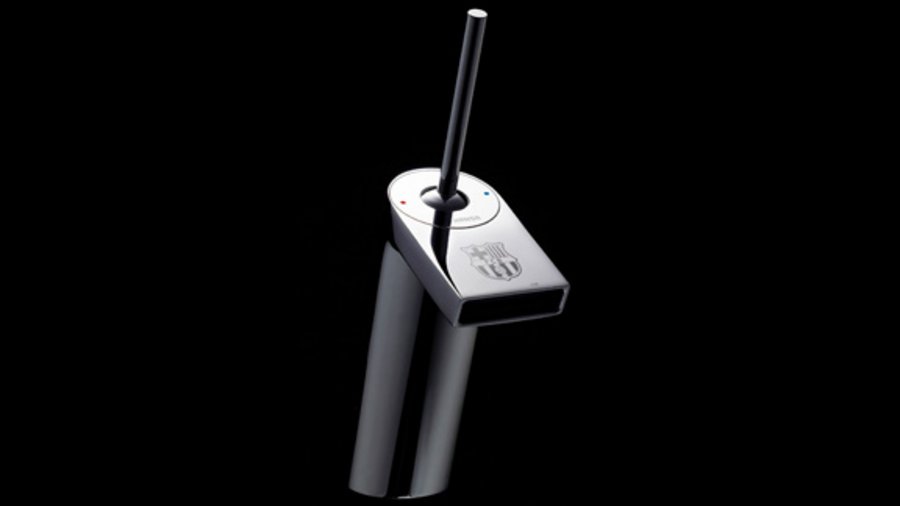 Has the obligatory club bed linen started to get boring? Your wife doesn't fancy your fan pyjamas? And the Christmas tree balls, towel and candles in your favourite club's colours don't harmonise with the furnishings? For FC Barcelona fans there's now an elegant solution – at least for the bathroom: Fittings by sanitaryware manufacturer Hansa engraved with the club logo of the star Spanish team transform your washbasin into a one-off fan experience. 
Stuttgart-based manufacturer Hansa offers four different models with the intricately engraved FC Barcelona logo. There's sure to be the right collector's item among them for every (fan's) taste and budget. Hansa Spain's head of sales had this to say: "The contact came about through our Spanish employee, a dyed-in-the-wool Barcelona fan. That's how the idea for the fan fittings was born. Judging by the huge demand, the fittings seem to have struck a chord with the Spaniards' tastes." 
The fittings can be ordered fuss-free via an online shop. The special edition models are also available for shipment to Germany, subject to individual approval by the football club. However, Hansa deals with the local processing details in Spain – so no extra effort is involved for German fans. 
Further information: